Steelers star Watt not ready to compare himself to older brother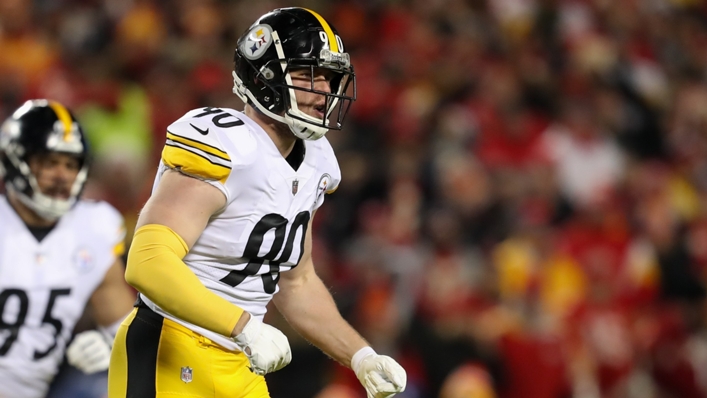 T.J. Watt was voted the NFL's best defensive player last season but the Pittsburgh Steelers' pass-rushing demon still feels he has a long way to go before being considered the greatest player in his own family.
Speaking to former NFL linebacker Channing Crowder on The Pivot podcast, Watt said his accomplishments – which include tying a league record for sacks in a season in 2021 – still pale in comparison to those of his older brother J.J., a three-time NFL Defensive Player of the Year award recipient.
Though his most recent seasons have often been marred by injuries, J.J. Watt became the first player in NFL history to earn Defensive Player of the Year honours three times in a four-year span when he did so in 2012, 2014 and 2015. That feat has since been matched by Los Angeles Rams superstar Aaron Donald, whose run was ended by the younger Watt's superlative 2021 campaign in which he recorded 22.5 sacks.
"I want people to understand how great my brother truly was in his prime," T.J. Watt said. "I think it gets lost today, and I know he'd be upset if I said this, but I think it truly is. You go back, and you look, you watch the film, the guy was frickin' unstoppable. Absolutely unstoppable.
"I think I'm too early in my career to compare myself to him at the moment, honestly."
T.J. Watt does compare favourably with his sibling in at least one important category, as his 72 career sacks are the third most in league history of any player through his first five seasons since sacks became an official statistic in 1982.
J.J. Watt ranks second on that list with 74.5, trailing only Hall of Famer Reggie White's 81.
The elder Watt, now a member of the Arizona Cardinals after spending 10 of his first 11 seasons with the Houston Texans, has recorded only one double-digit sack season since 2016 – mainly because he has had trouble staying on the field. The 33-year-old has been limited to eight games or fewer four times in that six-year stretch.
"I think people need to go back and look at that," T.J. Watt said about his brother's past dominance. "The guy was doing incredible things for four or five years, and I think he can still play at a high level."
T.J. Watt enters this season with a chance to make some history of his own after producing at least 13 sacks in each of the last four years. The only player with a streak that long since 1982 is White, who did it from 1985-88 and again from 1990-93.
Tags