Stars aligned for Saudi Arabia in 'crazy' win over Argentina after Renard's half-time anger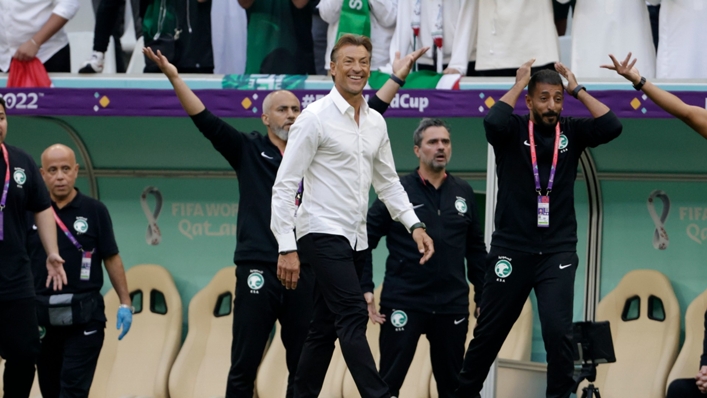 Herve Renard acknowledged Saudi Arabia benefited from an 'off day' for Argentina in their "crazy" World Cup win.
Saudi Arabia came from behind to sensationally shock the South American champions 2-1 in their Group C opener at Lusail Stadium on Tuesday.
Argentina led through Lionel Messi's 10th minute penalty and had a further three goals disallowed in the first half.
"If we conceded a second goal, I think this game is finished," said Saudi Arabia coach Renard, adding he was "not happy" with the first-half display from his team.
"The determination was not good," he said. "At a World Cup, you have to give everything, because we cannot play how we played in the first half."
After the break, however, Saudi Arabia caught the Albiceleste out twice in quick succession, scoring through Saleh Al Shehri and Salem Al Dawsari to turn the match on its head and secure a lead they defended bravely until the final whistle.
Renard thanked Crown Prince Mohammed bin Salman for not "putting too much pressure" on his side, explaining that helped Saudi Arabia to prepare "very well".
"And today," he added. "All the stars in the sky were in the same line for us.
"But don't forget Argentina is still a fantastic team. They came here without losing in 36 games.
"They are South American champions, they have amazing players, but this is football, sometimes it can happen – things that are crazy."
Renard could understand why Argentina underperformed in a game in which they were huge favourites.
"Can you imagine Lionel Messi playing against Saudi Arabia? He will say they have to start well, but the motivation is not like when he plays Brazil," Renard said. "This is football.
"We made history for Saudi Arabia. This will stay forever. This is important.
"But we need to think about moving forward. We still have two games that are very difficult for us."
Renard added: "Anything can happen. You can win the first game and not qualify. You can lose the first game and be world champion for Argentina. It's possible.
"Let's enjoy this competition and be ready for the second game."
Tags