Stanley Cup: Tearful Stamkos reflects on defeat
Liam Phillips
Stats Perform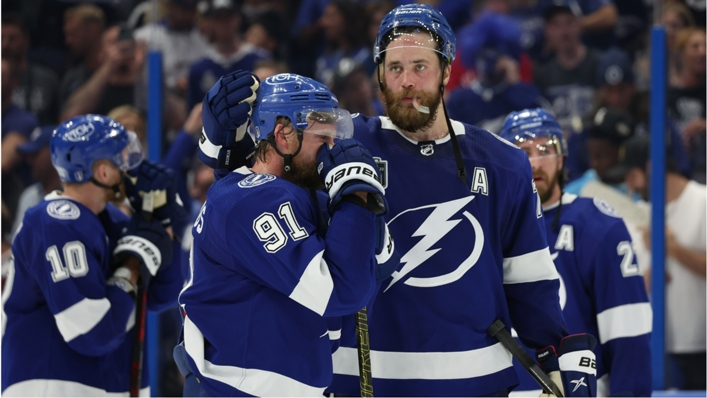 Tampa Bay Lightning star Steven Stamkos was in tears as he spoke to reporters after losing to the Colorado Avalanche in Game 6 of the Stanley Cup Final, ending an 11-series winning streak that spanned the past two championships.
The Lightning took an early lead less than five minutes into Sunday's game, but it would be the only goal they would score, with a pair of second-period strikes from Nathan MacKinnon and Artturi Lehkonen proving enough to deliver the Avalanche their first Stanley Cup in over 20 years.
While the Lightning were trying to win their third Stanley Cup in a row, for the Avalanche it was the third in the history of their franchise, joining their 1995-96 and 2000-01 successes.
Speaking in the locker room, Stamkos said what would generally be considered a successful season still felt like heartbreak in the moment.
"It's the worst feeling," he said. "Expectations are so high with this group.
"There's probably a lot of teams that get to this position and feel like they had an unbelievable year – but for us it's disappointing.
"Because we know what we have in [our locker room], we know that feeling [Colorado are] having over there right now is the best in the world, and sometimes you forget the other side of it.
"It was just a grind. That's what makes it even tougher, because you realise how hard you worked to get here. The disappointment is something I probably can't put into words."
Lightning defenseman Victor Hedman paid respect to the champions, but said he feels his side was just a few bounces away from a three-peat.
"Winning three straight, it's rare in this league," he said. "We lost to an unbelievable team, who only lost four games in the playoffs, so they're deserving champs.
"At the same time, we feel like we were right there – two overtime losses, two close games – but at the end of the day, it's tough."
Tags