Stanley Cup: Lightning strike twice early to leave Canadiens on the brink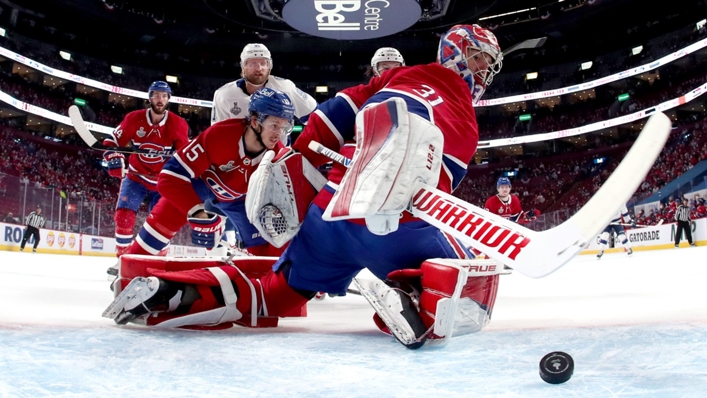 The Tampa Bay Lightning moved to the brink of a second successive Stanley Cup triumph after a fast start helped them overcome the Montreal Canadiens in Game 3.
Jan Rutta and Victor Hedman both scored to give the Lightning an early 2-0 lead, in the process making it the first game in finals history where a team has got multiple goals from defensemen within the opening five minutes.
The Canadiens managed to halve the deficit but conceded twice more at the start of the second period, leaving them with a task they were unable to scale.
Tyler Johnson grabbed a brace as Tampa Bay ran out 6-3 winners, a result that leaves them on the cusp of glory in the best-of-seven series. However, Hedman insists there is still work to do, with Game 4 in Montreal on Monday.
"We're not there yet," Hedman, who also registered an assist, said. "We put ourselves in a good position obviously, but the fourth one is the hardest one to get.
"We're going to do whatever it takes to win the next game. We've got more work to do, and we're not satisfied until we're done."
Montreal managed more shots on goal (35-30), though the disparity was not quite the same as in Game 2. The Canadiens had 43 attempts in the previous encounter compared to Tampa Bay's total of 23, yet still lost 3-1.
Phillip Danault, Nick Suzuki and Corey Perry were on target for Montreal in a losing cause on Friday, though they left themselves with too much to do after a disastrous start to proceedings.
"We put ourselves in a hole early, and it's tough to dig yourself out of a hole against a team like that, that plays pretty stingy," Canadiens captain Shea Weber said.
However, there is still hope for the Canadiens, who were down 3-1 to the Toronto Maple Leafs in the first round of the playoffs before rallying to keep their season alive.
Dominique Ducharme is in interim charge after Claude Julien was fired during the regular season, though the former had been absent for the first two games of the finals while self-isolating following a positive COVID-19 test result.
"We didn't quit the whole year, no matter what was being said," center Danault said. "When it was 3-1 Toronto we didn't quit. And I can guarantee that nobody on the team is going to quit now."