Stanley Cup: Lightning look to close out Canadiens in Game 4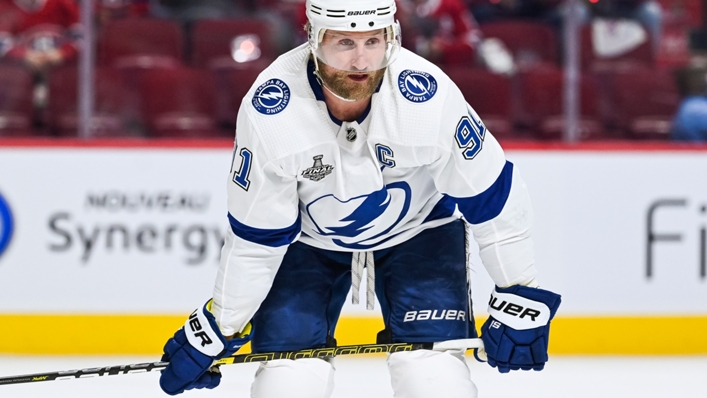 Reigning NHL champions the Tampa Bay Lightning are focused on closing out their Stanley Cup Final series against the Montreal Canadiens in Monday's Game 4.
The Lightning moved to the brink of a sweep with their 6-3 win in Montreal on Friday, but have been confined to their hotel rooms for most of their stay in Canada due to COVID-19 restrictions.
Tampa Bay know they will be heading home after Monday's game regardless, either for Game 5 on Tuesday or as back-to-back Stanley Cup winners, but the Lightning have left no doubt which option they prefer.
"I think for us, we've been in this position before," Lightning captain Steven Stamkos told reporters on Sunday. "We understand the magnitude of the game and we understand that we really are, as much as it's cliché to say, we're focussed on the start of next game.
"All those other things work themselves out. You never know what's going to happen in the course of a game or a series. We're focussed on our start next game. We want to come out extremely hard. We realise, both teams understand the situation that they're in. We're excited for the challenge."
In last season's Final, the Lightning had a chance to clinch at home in Game 5 as they held a 2-1 lead in the third period but saw the Dallas Stars tie the contest, then win it in double overtime on a goal by Corey Perry, who is now with the Canadiens.
Tampa Bay would emerge victorious in Game 6 to take the Cup and would love nothing more than to do so again this year without all the drama.
"It's a learning process to go through that," said Lightning head coach Jon Cooper. "By no means does that guarantee the results of what's going to happen in [Monday's] game, but I know our mindset's different going into these closeout games. ...
"It's about winning, it's not about where you win. And that's all we care about."
Sweeps are rare in the Stanley Cup Final, as the Detroit Red Wings were the last to do it in 1998 against the Washington Capitals, but history is on Tampa Bay's side.
The only NHL team to blow a 3-0 lead in the Finals are the 1942 Toronto Maple Leafs, who ultimately fell to the Red Wings in seven.
On the verge of a second straight Cup, the Lightning do not need to be reminded of the stakes.
"You're in the Stanley Cup Final. You're playing against a great team over there," Stamkos said. "We've said it from whether it's the first round or the Stanley Cup Final, the fourth game is always the hardest to win. And that's the mentality we've had.
"Sometimes it takes four games. Sometimes seven. We expect that this group is going to be ready to play, and we expect that their group is going to be ready to play. No games are easy at this time of the year.
"I think for us, it's easy not to look past that. We know the difficulty of the Montreal Canadiens and what they bring to the table, and for us, it's another game."