Stanley Cup: Canadiens have 'no intention of stopping now' after avoiding sweep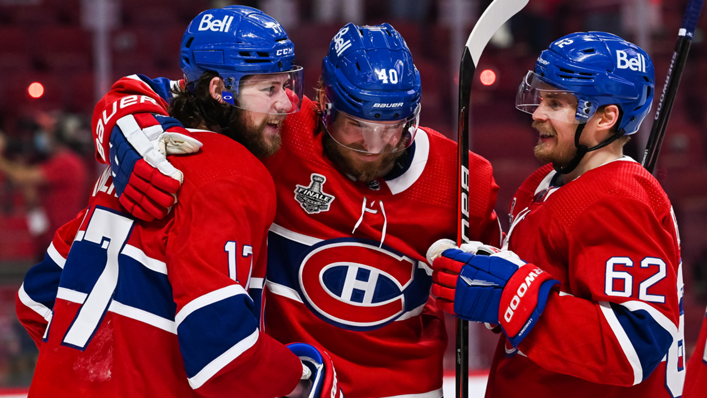 The Montreal Canadiens are still believing after Josh Anderson's overtime goal helped them stave off a rare Stanley Cup Final series sweep with a 3-2 win over the Tampa Bay Lightning on Monday.
The Canadiens killed off a four-minute penalty to captain Shea Weber in overtime before Anderson's goal forced a Game 5 in Tampa, with the series at 3-1 in favour of the reigning NHL champions.
Montreal would have become the first side to suffer a clean sweep defeat in the Final series since 1998, when the Detroit Red Wings won 4-0 over the Washington Capitals.
Instead, the Canadiens are the first team to score in overtime to avoid a sweep in the Stanley Cup Final since the Bruins did it in 1946 against the Canadiens.
"We didn't want to end it tonight in front of our fans," Anderson said at the post-game news conference. "We expected to go to Tampa.
"I think everybody in that locker room packed their bags this afternoon. We just had that feeling that we were going to win tonight and give ourselves a chance to go there, take care of business, and come home in front of our fans. We're in a good position now."
If Montreal can win Game 5 in Tampa, they will have home rink advantage for Game 6 at the Bell Centre. Montreal are 4-0 when facing elimination this postseason.
Anderson said the Canadiens' grit to hang on during Weber's four-minute penalty showed they could overcome adversity.
"Our penalty kill has been outstanding all playoffs, so we came back to the room and we just believed in each other," Anderson said.
"We weren't down. It was all positive things in the room. We just had to execute. I thought we did a phenomenal job.
"Carey [Price] was a wall tonight. He gave us that chance to finish it in overtime. Everyone stuck together and did their jobs."
Interim Canadiens head coach Dominique Ducharme added: "We're proud of what we accomplished tonight, but we don't want to just avoid seeing the Lightning players holding the Stanley Cup.
"We have no intention of stopping now. We want to go to Tampa and come back to play another game here."
Game 5 is at Tampa's Amalie Arena on Wednesday.