Stanley Cup: Point set to miss Game 6, 'you never know' for Game 7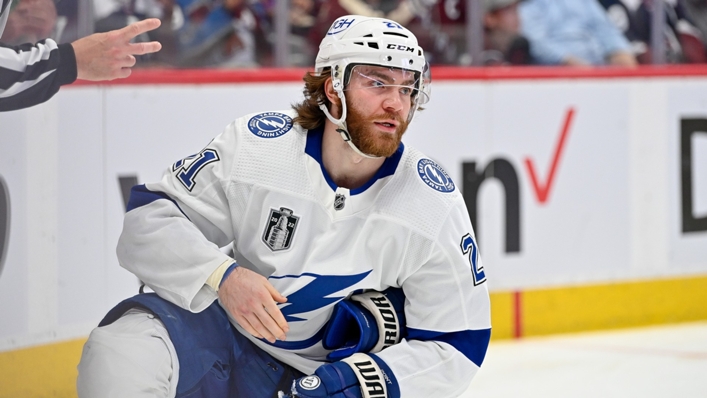 The two-time defending Stanley Cup champion Tampa Bay Lightning will once again try to stave off elimination without Brayden Point.
Lightning coach Jon Cooper said Point skated on Sunday prior to Game 6 of the Stanley Cup Final against the Colorado Avalanche but also mentioned he does not plan on changing his lineup, meaning Point will miss a fourth straight game.
The Avalanche lead the series 3-2 and are one victory away from winning their first Stanley Cup since 2001.
"It's unfortunate because it's a severe injury," Cooper said. "At this time of the year, everybody's trying to get back into the lineup and just there are some things you can't do.
"When you can't do what you're used to doing, it's tough on a player."
Point, the Lightning's leading scorer during each of the team's Cup runs over the last two seasons, suffered a lower-body injury in Game 7 of Tampa Bay's first-round series against the Toronto Maple Leafs.
He missed the next two rounds before returning for Games 1 and 2 of the Final series but was clearly limited with one total shot in the two games and has been out of the lineup since.
"It's extremely difficult for everyone involved because everyone cares so much. But there's no animosity or anything like that. They're just difficult conversations because everybody wants the same thing," Cooper said.
Point has been sorely missed on the power play, as the Lightning have gone just five-for-38 (13.2 per cent) with the extra skater in their past 13 games.
If Tampa can defend home ice on Sunday and force a Game 7, however, Cooper did not rule out Point returning for Tuesday in Denver.
"He's still plugging along here and rehabbing and trying to get better. Who knows? If the series goes one more game, you never know," Cooper said.
"It's tough on these guys because they're such competitors."