Stafford not blaming injuries as Rams slump continues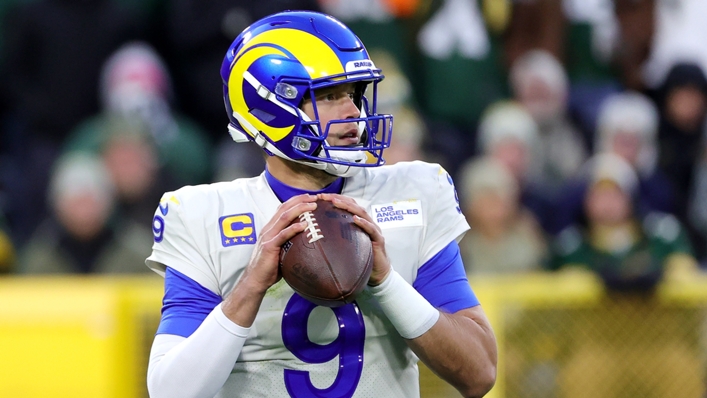 Matthew Stafford insisted he was feeling "fine" physically as he faced questions over his fitness following the disappointing loss at the Green Bay Packers.
The Los Angeles Rams fell to 7-4 after losing 36-28 in an entertaining road game against Green Bay on Sunday.
Stafford threw for 302 yards, three touchdowns and one interception, but also had his lowest completion percentage (55.3) of the season so far.
After making an electric start to the season, Stafford has thrown five interceptions in a run of three straight loses for the Rams, going for a pick-six in each of those defeats.
Stafford also had a lost fumble against the Packers and a report before the game suggested he was battling with back, elbow and ankle problems despite not appearing on the injury report.
"I am feeling fine," said Stafford, per ESPN.
"Back was kind of barking at me a little bit that week [Week 9], but I haven't missed any time since then.
"The rest of my body, is it 100 per cent? No, nor is anybody else's in this league at this point of the season.
"You have to take them all [my turnovers] individually. I know that is probably tough for you guys to hear, but that is the truth of the matter. That's the way I see it."
Rams cornerback Jalen Ramsey has been surprised by a losing streak that he says must end given the team's star quality.
"It's not a good mood – I can say that," he said.
"Of course I am [shocked]. We have guys that are way too good for us to be losing games like this and losing games on the road.
"We've just got to get it right. We have to play better, everything has to be better because we're too good to be losing games like this but we're not playing like we're that good right now, so we got to correct our stuff."
Stafford still sits third in the NFL with 3,316 passing yards, second in the league with 27 TD passes and has a fourth-best passer rating of 105.2.
He has had 27 passing plays which have gone for 25 or more yards, which is third-best in the league in a tie with Aaron Rodgers, who was the winning QB in Sunday's game at Lambeau Field.
The impressive Rodgers had 307 passing yards and two touchdowns without an interception, as well as rushing for a score.
It was Rodgers' 60th career game with at least 300 yards through the air and two TDs, becoming only the fourth QB to achieve that feat after fellow NFL greats Drew Brees, Tom Brady and Peyton Manning.