Spieth, Homa and Cantlay help team United States to undefeated second day at Presidents Cup
Liam Phillips
Stats Perform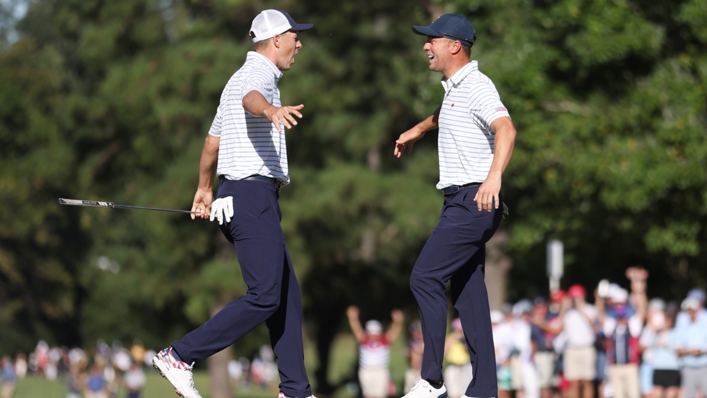 Friday was the second day of The Presidents Cup, and the second day in a row the United States team came away with four of the five points on offer to lead 8-2 in the best-of-30 competition.
After foursomes was the format on Thursday, things moved to four-ball for the second trip around Quail Hollow, meaning all four golfers in their matchup play each hole, with only the best score from each duo counting towards their score.
Patrick Cantlay and Xander Schauffele – the reigning champions from the PGA Tour's only team event during the season, the Zurich Classic of New Orleans – showed no signs of slowing down after their blistering 6 and 5 win in the opening round, again delivering the biggest margin of victory for the day.
They defeated the duo of Hideki Matsuyama and Tom Kim 3 and 2, and the International team needed to mount a comeback to even survive that long as the United States were 5up through eight holes.
Kim was responsible for all three winning holes for his duo, with birdies on the 12th, 14th and 15th, while Cantlay and Schauffele evenly split their six triumphant holes with three apiece.
The only other fixture to not go the full 18 was Jordan Spieth and Justin Thomas' 2 and 1 win against Australian duo Cam Davis and Adam Scott.
It was another hot start for the United States, with back-to-back birdies from Thomas and one from Spieth putting them 3up through eight holes, and although Davis and Scott both won a hole each down the back-nine, they were never able to bring the margin to within one.
Things were much more competitive in Max Homa and Billy Horschel's 1up win against Canadians Corey Conners and Taylor Pendrith, as the Americans picked up the lead with one hole to play.
Team United States took a 2up lead into the back-nine, which was quickly erased by Conners with two birdies on the 11th and 13th, leaving things tied until the 17th, where Homa delivered a clutch birdie to secure the win.
There were no wins for the Internationals on Friday, but they collected two half-points as the duos of Mito Pereira and Christiaan Bezuidenhout as well as Im Sung-jae and Sebastian Munoz held on to salvage something from the day.
Im and Munoz had a tough matchup against world number one Scottie Scheffler and Sam Burns, but it was Burns doing most of the heavy lifting for the United States, winning three of his team's four holes.
Munoz won three of the Internationals' four holes, including a par on the 17th as both Americans bogeyed to even things up.
Lastly, Pereira and Bezuidenhout were leading through 13 holes, before Cameron Young tied it and collected another half-point for his duo with Kevin Kisner.
Saturday will see teams contest both foursomes and four-ball rounds, before the competition moves to singles play on Sunday.
Tags