Southgate believes England will be stronger for poor run as World Cup approaches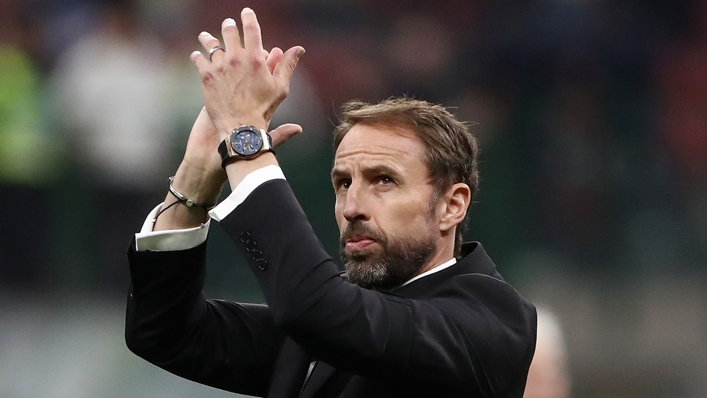 Gareth Southgate believes England have grown stronger as a result of their poor form ahead of the World Cup, as he pledged to stand firm on his selections.
England suffered a humiliating relegation from the top tier of the Nations League last month, finishing their campaign with three points – and no wins – from six games.
The Three Lions begin their World Cup campaign against Iran on November 21, and their six-match winless run is their longest such sequence going into a major tournament.
Southgate was jeered by England supporters in the aftermath of a 1-0 defeat to Italy on September 23 and has been criticised for standing by Manchester United's struggling defender Harry Maguire.
Speaking at Monday's Legends of Football event in aid of Nordoff Robbins Music, Southgate accepted criticism of his decisions, but maintained he must sometimes resist "popular appeal".
"I think everybody in the country can see we're trying to accomplish extraordinary things," he said. "To accomplish extraordinary things is incredibly difficult.
"This is a job where every decision, every selection is questioned, debated, ridiculed. That's just by my postman, by the way!
"Column inches are full, airwaves are filled. As a manager, you're not going to get every decision right.
"But I have to be strong enough to withstand popular appeal for something and do what I really believe gives us the best chance to win.
"If you can keep your head when all about you are losing theirs, and blaming it on you. If you can trust yourself, when all men doubt you, but make allowance for their doubting too. That doubting, that noise that surrounds us is because people care. They're passionate.
"They just want to win, and I understand that. And if we don't win for six matches, then quite rightly, I have to accept that criticism.
"That's what goes with our job. If nobody cared or commented, then it wouldn't be the great and incredible challenge that it is."
England failed to score an open-play goal in their first five Nations League games, before coming from 2-0 down to lead 3-2 in last week's thrilling draw with Germany, but Southgate believes the team's poor run could benefit them heading to Qatar.
"Milan was painful. I knew walking over to our fans that it wasn't going to end well. But I wasn't going to take a backward step," Southgate added.
"I've enjoyed the warmth and the adulation, so you've got to ride with the discomfort as well.
"Against Germany, I think we showed what we're capable of, good and bad. It showed there is character there. As a team, I think we'll be better for that challenging period we've just been through.
"You wouldn't choose to go into a World Cup with the run of results we've had, but I actually think we're stronger for that and the players have had to take some ownership.
"Those moments, like coming back from to 2-0 down and hearing the roof lift off Wembley, are hard to describe."
With England reaching the World Cup semi-finals in 2018 and finishing as runners-up at Euro 2020, expectations surrounding the Three Lions have undoubtedly risen.
"In seven weeks' time, I get to lead my country to another World Cup. We have players I'm proud to lead, who give us everything," Southgate said.
"We want to bring people together, create memories and history. I've said before the last two tournaments: if we can make people proud, we'll have had an amazing time.
"I know that the bar of what might be deemed success is raised and getting higher for us. But as a team, we have to focus on performance, and the rest will fall into place.
Tags