South Africa believed but 'came up short' as Nienaber sees Rugby Championship hopes slip away
John Skilbeck
Stats Perform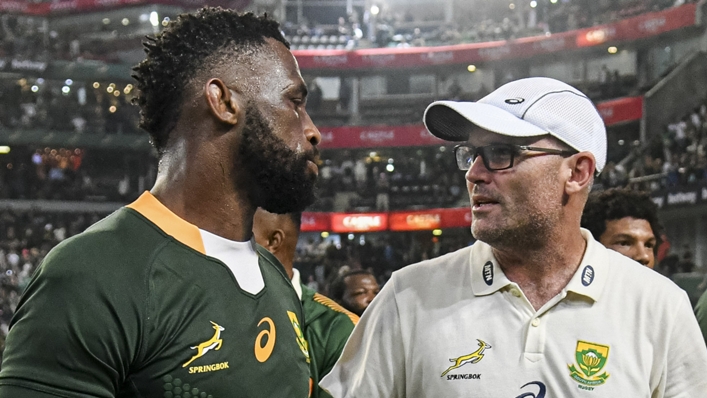 South Africa head coach Jacques Nienaber accepts his team have plenty of room for improvement with just under a year to go until their Rugby World Cup defence gets under way.
The Springboks could only beat Argentina 38-21 in the final match of the Rugby Championship on Saturday, and that meant New Zealand took the trophy.
South Africa required a try-scoring bonus point plus a winning margin of at least 39 points at Kings Park in Durban, but the Pumas would not be rolled over in such a manner.
The daunting title target for the Boks had been set when the All Blacks posted a crushing 40-14 victory against Australia earlier in the day.
Before their 2019 World Cup win, the Boks won a three-match Rugby Championship. The 2020 championship was cancelled due to the pandemic, but the All Blacks have now carried off the title in 2021 and 2022, this time around serving to ease some of the pressure on coach Ian Foster.
It was tight this year, with New Zealand and South Africa both winning four of six games, but the All Blacks managed one more bonus point and a superior points difference.
Nienaber is already looking forward to November away games against Ireland, France, Italy and England, as South Africa look to gather themselves for a big push into next year. The World Cup begins in September 2023 in France.
"We are not there yet, we need to find consistency," Nienaber said. "In that regard, we will get a good idea where we are on the end-of-year tour.
"We play the number one [Ireland] and number two [France] in the world in the first two games of the tour. So it will be a challenging tour for us."
South Africa had not scored 39 points in a match, let alone won by that margin, since a 40-9 defeat of Georgia in July 2021.
They last beat Argentina by such a hefty points margin in 2013, when posting a 73-13 landslide win, but the Pumas are far more competitive nowadays, as wins over Australia and New Zealand in this championship showed.
Nienaber said his players still felt they could pull off the improbable against Argentina when they took to the field.
"We saw it as a realistic target, we took on the task full on," Nienaber said, quoted by Supersport. "We needed to get a 39-point winning margin to win the trophy, and we all bought into it.
"In the end we came up short, but you can never take a win in the Springbok jersey for granted, victory is always special. We are glad we came out on the right side of today's result, even if we didn't get what we needed to win the championship."
Tags