Smart shares joy after interim Celtics HC Joe Mazzulla earns All-Star Game nod
Liam Phillips
Stats Perform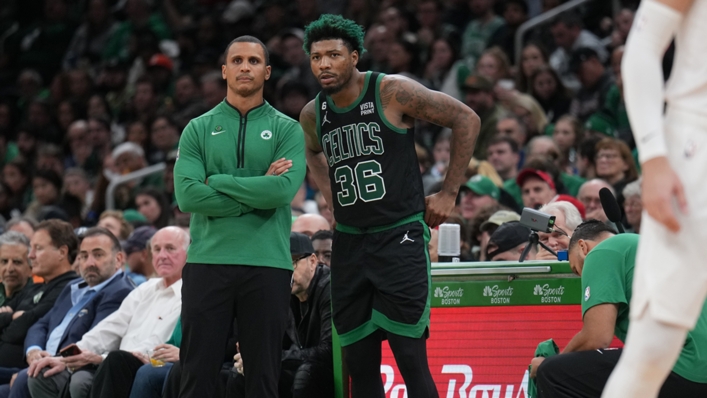 Marcus Smart was not going to let Boston Celtics interim head coach Joe Mazzulla downplay his achievement after he and his staff were named as coaches for the All-Star Game's Team Giannis.
Mazzulla and his staff were selected for the honour after securing the Eastern Conference's best record through February 5, with their 36-15 mark one game ahead of Western Conference-leading Denver Nuggets (35-16) in the race for the overall one seed.
It has been a remarkable rise from obscurity for 34-year-old Mazzulla – who is two years younger than his starting center Al Horford – having earned his first role in the NBA as an assistant to Brad Stevens back in 2019 after two years as head coach of division two college Fairmont State.
When Stevens was promoted by the Celtics to president of basketball operations, he retained Mazzulla while promoting Ime Udoka to his first NBA head coaching role.
Udoka's lone season in charge was a success, taking the Celtics all the way to their first NBA Finals appearance since 2010. He was suspended in the offseason after what was described as an "inappropriate, consensual relationship" with an employee.
Stevens showed no hesitation in naming another first-year head coach, and it has again proven to be a shrewd move, as Mazzulla has his side sitting top-five in both offensive and defensive efficiency.
When asked about the honour of coaching the All-Star Game, Mazzulla deflected credit to others in the organisation.
"It's more of a testament to the players and to the staff," he said. "The staff, as hard as they work on scouting and preparation and the relationships that they build with the players.
"So it's a testament to the staff, and then the players have to play the games and they have to win. I'm blessed that we have guys that work at it and I appreciate their support for our staff and for our organisation.
"But if they don't win the games and play as hard as they played, we're not in this situation. So thank you to both of them."
Listening close by, Smart jumped in and made sure his coach received the praise he deserves.
"Oh, he's definitely pumped about it," he said. "I mean, first time being a head coach and you go to coach the All-Star Game, I don't see how you'd not be excited – but that's just Joe.
"He does a good job of hiding his enthusiasm for certain things and other times, he lets you know.
"We're just extremely proud of Joe for everything, and how him and the rest of this team and coaching staff have responded to everything we've been through this season. We tip our hat off to those guys."
Smart added that Mazzulla's willingness to share the credit is part of why this Celtics side are the juggernaut they have become.
"It's just the humble mentality that we have," he said. "We got a lot of great guys, from coaches and players, that could sit here and boast about themselves, about everything they've accomplished and things like that, but that's not us.
"We love each other, and we let all the outside noise do the talking for us. But it definitely means something to Joe, and it means a lot to us for him to do it.
"Joe's been through a lot. He stepped into a situation that wasn't ideal for anybody, and he strived and exceeded, I'm sure, a lot of expectations, so we're happy for him."
Tags