Silva insists there's no panic at Man City as they try to rein in Arsenal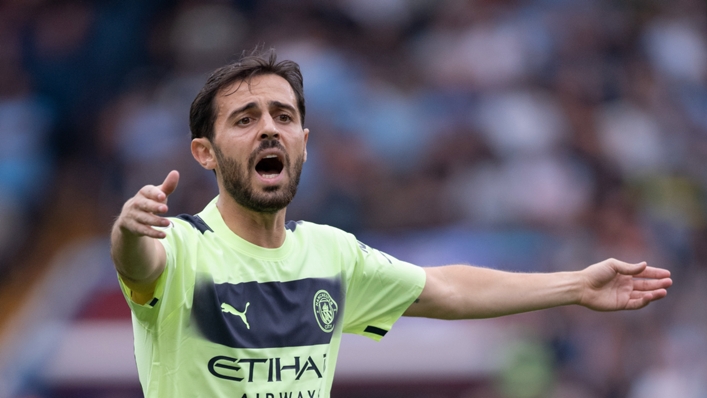 Bernardo Silva insists there is "no panic" at Manchester City despite Arsenal's five-point lead at the Premier League summit.
Mikel Arteta, who was previously Pep Guardiola's assistant coach at City, has guided the Gunners to 13 wins from 15 top-flight games this term, sparking dreams in the red half of north London of a first title win since the 2003-04 season.
Reigning champions City have dropped points in four of their 15 games this season and Silva, who was an unused substitute in Wednesday's 3-1 win over Leeds United, knows there is little room for error as they aim to rein in the Gunners.
"It's the Premier League. You never know what is going to happen in this league. Newcastle United since the takeover have invested very well and look like they have a very good project," he told Sky Sports.
"Arsenal is not a surprise, maybe for some but not for me. I know the manager very well, I know how well he understands the game and how he deals with his players because when he was with us he did the same thing.
"It's a very young team but when you add players with a winning mentality like Gabby [Gabriel Jesus] and [Oleksandr] Zinchenko then it becomes a very dangerous side. I'm not surprised at all about Arsenal.
"We're behind and have to go after them knowing it's a difficult league. The league is still very much alive. We're not in a perfect position but we're better than most teams so we'll keep fighting.
"There's no sense of panic but concern that we're five points behind – we're not happy. We know we can't make more mistakes. Arsenal can make mistakes and if they drop a few points they'll be a in a race with us and other teams.
"If we drop points, maybe Newcastle will go past us, [Manchester] United will go past us, Tottenham will go past us and Arsenal will keep running and it won't be easy to go after them.
"There's no panic but definitely motivation and a lot of focus to not let them go further away from us."
City are next in action on Saturday when Everton travel to the Etihad Stadium.
Tags