Shanahan believes 49ers have 'two starters we can win with' in Purdy and Lance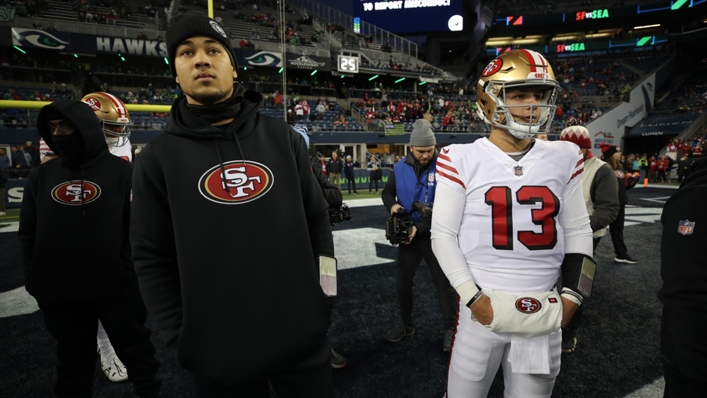 Kyle Shanahan has not yet decided which of Brock Purdy or Trey Lance will be the San Francisco 49ers starting quarterback moving forward – but it will certainly be one of them.
Purdy was one of the surprise stars of this 2022 NFL season, coming to the fore in his rookie year having been the final pick in the draft.
He led the 49ers to the NFC Championship Game, only to sustain an elbow injury against the Philadelphia Eagles that significantly hindered San Francisco in a one-sided loss.
Purdy only got his opportunity after Lance, selected third overall in 2021, and backup Jimmy Garoppolo were both injured.
When Purdy's own backup Josh Johnson suffered a concussion against the Eagles, the luckless 49ers had lost four QBs, leaving Purdy to play out the rest of the game without throwing the ball.
Coach Shanahan confirmed on Wednesday there was unlikely to be a return in 2023 for free agent Garoppolo, and the 49ers do not see the need for an alternative veteran starter.
But where that leaves Purdy and Lance remains unclear. Both men are injured with the aim of returning before next season; Purdy tore elbow ligaments, while Lance broke his ankle.
"I know we have two starters on our team right now that I believe we can win with," Shanahan said. "So, when you have that situation, you're not that eager to go looking around."
Purdy and Lance, speaking earlier in the week, each described their excitement to return to fitness and "compete".
Lance added to reporters: "I'm sure it will be a whole story again this year for you guys."
Tags