Shanahan believes in Lance but 49ers' QB won't 'make or break' season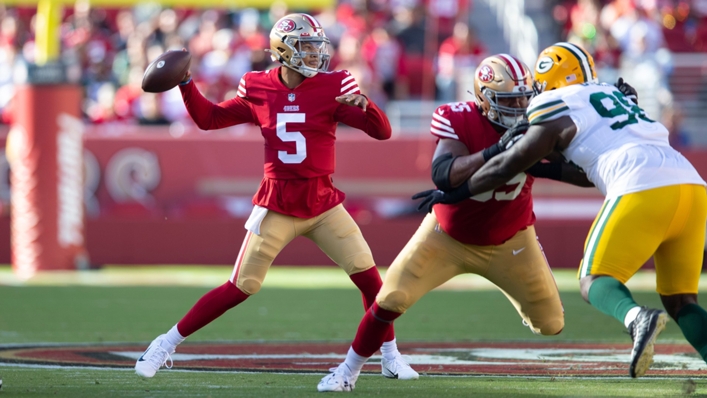 Trey Lance has the belief of Kyle Shanahan, but the San Francisco 49ers' head coach does not believe his starting quarterback will "make or break" their 2022 season.
Lance will be the Niners' starter in 2022, replacing Jimmy Garoppolo, who is likely to be released when rosters are trimmed to 53 players if San Francisco cannot find a trade partner.
San Francisco reached Super Bowl LIV with Garoppolo as the starter in the 2019 campaign and narrowly lost last season's NFC Championship Game with the former New England Patriot under center.
However, the Niners traded three first-round picks to move up to the third overall pick in the 2021 draft and select Lance out of North Dakota State, believing him to have the physical gifts and the mental attributes to take their offense to the next level.
They will now see their assessment of Lance put to the test across a full season. Lance started two games in relief of an injured Garoppolo last year and, prior to that, had only one full season of college football under his belt. That came in 2019 when he threw for 28 touchdowns and ran for a further 14 without throwing a single interception as Lance led North Dakota State to an FCS National Championship.
That lack of seasoning makes Lance one of the biggest unknowns of the 2022 season, but head coach Shanahan does not think his performance will be the defining factor for an extremely well-rounded team harbouring Super Bowl aspirations.
"Is Trey ready to take it on his shoulders?" Shanahan told Peter King's Football Morning in America. "He shouldn't be. He hasn't gone through it enough.
"I believe in him as a man, as a person. I believe in his talent. I don't think he is going to make or break our season, just like in 2019 and last year, I didn't think Jimmy was going to make or break our season."
Shanahan, though, suggested attempting to deliver for a team under pressure to win a sixth Super Bowl title after going agonisingly close in two of the last three seasons could negatively impact Lance.
"But what sucks is when you're learning how to play and you're not there yet, how do you not get worse sometimes when that pressure's on you and you need to go through the growing pains?" Shanahan added.
Lance went 1-1 as a starter last year, throwing for 603 yards, five touchdowns and two interceptions in his brief time on the field. He also ran for 168 yards and a touchdown.
According to Stats Perform data, Lance was the second-most aggressive quarterback in the NFL in terms of pushing the ball downfield. Among quarterbacks with at least 50 pass attempts, only Drew Lock (10.20) averaged more air yards than Lance (10.10).
Lance was still accurate despite regularly attempting low-percentage throws. No player to average at least 9.0 air yards had a better well-thrown rate than Lance, who delivered an accurate, well-thrown ball on 77.1 per cent of his attempts.
In his first preseason game of 2022, Lance played two offensive series, completing four of his five passes for 92 yards including a 76-yard touchdown to rookie wide receiver Danny Gray in a 28-21 win over the Green Bay Packers.
Lance will take part in joint practices between the 49ers and Minnesota Vikings this week but will not play in Saturday's second preseason game.
Tags