Shanahan: 49ers were confident against Eagles despite Purdy injury
Joshua Challies
Stats Perform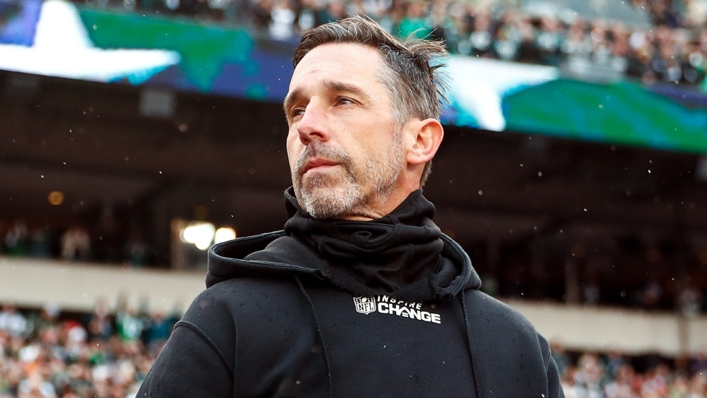 Kyle Shanahan was confident the San Francisco 49ers could compete with the Philadelphia Eagles in the AFC Championship game despite the loss of quarterback Brock Purdy.
The rookie QB was forced off at the end of the 49ers first drive with an elbow injury after his throwing arm was hit by Eagles edge-rusher Haason Reddick, leading to the introduction of fourth-stringer Josh Johnson.
More bad luck followed for the 49ers though, with Johnson ruled out due to the concussion protocol and Purdy reintroduced, albeit unable to throw deep passes, in an eventual 31-7 loss.
However, Shanahan felt the team had hope of a comeback until the final Eagles touchdown that led to a three-score lead.
"I don't think we're numb, the guys were up for the challenge. The defence was playing really well, we thought Josh was going to go in there, execute our plan and give us a chance," he told reporters.
"We felt confident coming out in the third quarter, but in that opening drive we lost our last quarterback.
"After that, we were inspired watching our defence, down two scores, we thought we could run the ball well enough and generate some stuff, hopefully get a turnover the other side, but we didn't move the chains enough and once they got that third score, it was really tough to catch up.
"The guys are pretty down in there, we were really excited for today and for the opportunity to play that team. They played great, they did good things, but we wish we had a better opportunity than what we did today."
A controversial incident in the first quarter was a fourth-down conversion for the Eagles in a 29-yard pass to Devonta Smith, which he appeared to drop on closer inspection of the replays.
Questions have been asked as to why Shanahan did not challenge the on-field decision, though there was a simple explanation.
"The replays we saw didn't definitively show that [the catch was dropped]," he explained.
"I was going to throw one anyway, to take the chance, but they showed one on the scoreboard that didn't have all the angles that you guys saw and it looked like a catch. We didn't want to waste a timeout.
"We definitely would have [challenged] if we hadn't had seen that. Then I heard they got a couple of angles and you ended up seeing later than it's not a catch."
Tags