Haller anticipates 'epic' atmospheres with Borussia Dortmund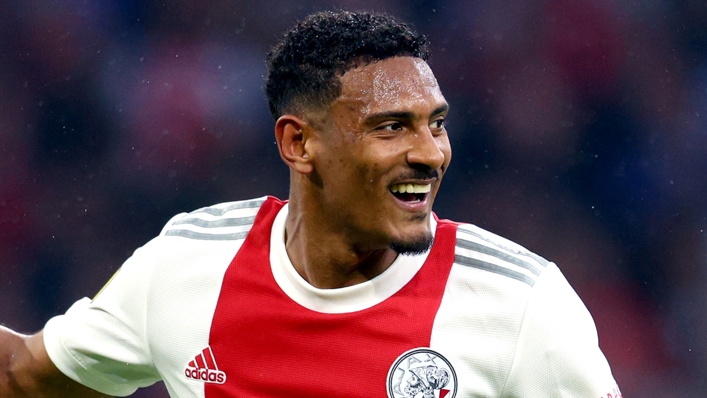 Sebastien Haller revealed he is looking forward to "epic" atmospheres and games at Borussia Dortmund, after confirmation of his transfer from Ajax.
Haller joins Dortmund on a four-year deal in his return to the Bundesliga, following a two-year spell with Eintracht Frankfurt 2017 and 2019.
The 28-year-old has provided four goals and two assists in his six career games against Dortmund, with three of those goals coming in his three games at the Signal Iduna Park, notably in last season's Champions League group stage with Ajax.
Along with identifying Dortmund's need to compete with Bayern Munich this upcoming season, Haller revealed it is a stadium that brings out the best in him, speaking upon the club's release of the transfer.
"The goals are, of course, to fight with Bayern and be first," he said. "Why not? It's an epic stadium, so most of the time it's epic games. I have a good feeling because the pitch is really good, and the atmosphere was always really good.
"Even if I didn't win [with Eintracht Frankfurt], I always have a great memory of this stadium because you are in really good conditions to play football, these games are a reminder that you play a beautiful sport."
Coming off a 34-goal season with Ajax in all competitions, Haller's arrival comes amid a busy off-season for Dortmund, along with the signings of Niklas Sule, Karim Adeyemi, Nico Schlotterbeck and Salih Ozcan.
The Ivory Coast international believes Dortmund represent a "great" opportunity for him in return, but is simply eager to start preparations for the upcoming season.
"I feel great, really happy, proud and also really looking forward to come and play. Training, games, being in the dressing room, everything," Haller said. "This is my life for a few years now and I'm really looking forward to this.
"It was a great opportunity for me with the club, the people at the club and also I know a few of the players. I had a good connection, I just want to have a good time and be successful.
"I can't wait to feel the support of 80,000 fans in the stadium as part of the BVB family. Hopefully over the coming years we'll achieve big things together, and then celebrate them together."
Tags