Seattle Kraken fall short in comeback in thrilling NHL debut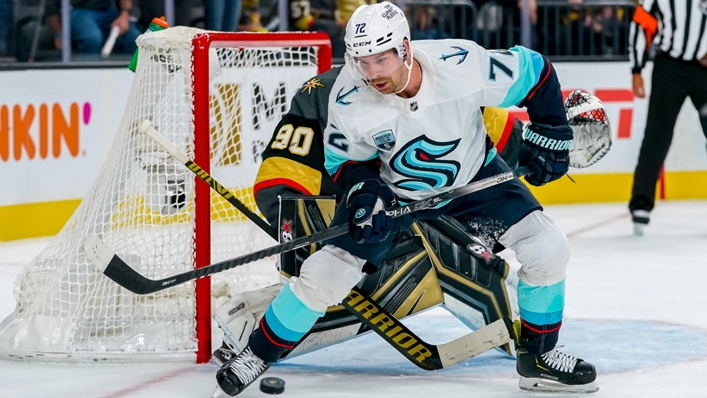 The Seattle Kraken fell just short in a thrilling comeback attempt as they made their NHL debut at the Vegas Golden Knights on Tuesday.
Trailing 3-0 in the second period, Seattle got their historic first goal through Ryan Donato before Jared McCann made it 3-2 just 72 seconds later.
Morgan Geekie levelled matters in the third, but the Golden Knights got the decisive seventh goal in controversial fashion through Chandler Stephenson.
Donato, a second-round pick for the Boston Bruins in the 2014 Entry Draft, said there was enough experience across the team to know they could recover from that early deficit even though the franchise is only in its first season.
"We just came together," said Donato. "We obviously hadn't been in that situation before, but we've all played on different teams and been in that situation on other teams. We knew as soon as we got one, the others would come."
Geekie, who managed two goals and an assist on a sparkling NHL debut for the Carolina Hurricanes last March, was delighted to have been part of a moment of history in Nevada.
"It's a spectacular city and they put on quite a show," the center said. "It was more exciting than anything, and to be a part of the new franchise is something special to be a part of."
Stephenson's goal came after the puck deflected in off his skate from a pass by Mark Stone, who had forced a turnover.
It was allowed to stand after a video review determined there was no intentional kicking motion on Stephenson's part – although he admitted he did not know if the goal would count at the time.
"I wasn't really too sure," Stephenson said. "I was kind of asking around what the ruling was, and I guess it being on the outside of my skate helped."
A frustrated Kraken coach Dave Hakstol said: "I know what I saw and believed. I thought it was a kicking motion. There's a grey area on those calls."
Next up for the Kraken is a visit to the Bridgestone Arena on Thursday to face the Nashville Predators.