Scherzer sends down 11 K's on return from injury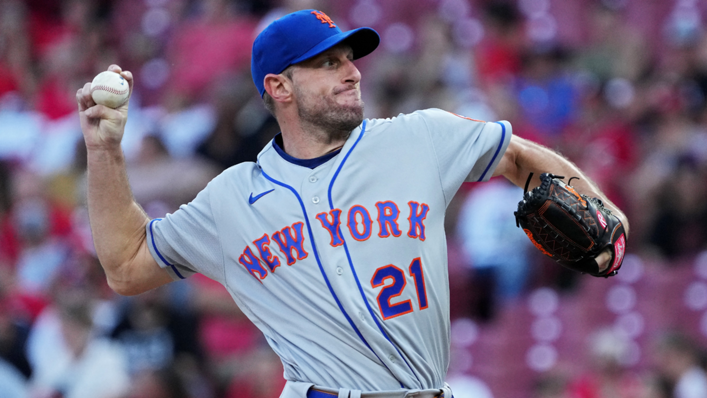 Eight-time All-Star pitcher Max Scherzer tossed down 11 strikeouts across six scoreless innings in his return from injury but the New York Mets lost 1-0 to the Cincinnati Reds on Tuesday.
Scherzer had not played since May 18 due to a strained left oblique muscle but showed no signs of rustiness on his return.
The 37-year-old right-hander was used across six innings for 79 pitches, allowing only two hits and no runs, with the Reds scoring the decisive run in the ninth inning.
The Reds got the victory with Mike Moustakas' sacrifice fly to Brandon Nimmo, allowing Tommy Pham to score.
Scherzer's 11 K performance was the 107th double-digit strikeout display of his career. It was also the fourth time Scherzer has struck out all nine starting hitters in his career.
The three-time Cy Young Award winner reached a maximum velocity of 97.1 mph.
Scherzer said after the game: "I didn't have any problems tonight. I felt good, I felt strong. I had nothing tighten up. I wanted to get to that 90-95 pitch count. They just didn't want to send me out there for the seventh. I understand that. Hopefully we'll get to that 90-95 pitch count next time out."
The Mets remain top of the National League East standings with a 50-31 record, with Scherzer 5-1 on the season with a 2.26 ERA.
Matzek magic marks Braves win
Atlanta Braves pitcher Tyler Matzek pulled off a moment of brilliance as they closed on the Mets in the NL East with a 7-1 win over the St Louis Cardinals.
Matzek's moment of magic came in the eighth inning with the Braves already leading 7-1, when he snagged Tommy Edman's one-hopper with a slick behind-the-back grab before under-arming to first base.
The Braves' win was built in the first inning, piling on five runs including two-run shots for Austin Riley – his third home run in five games - and William Contreras.
Atlanta's five-run first inning was their best opening inning of the season, with Riley moving up to 21 home runs for the season, equal eighth in the majors.
Alcantara keeps on keeping on
Sandy Alcantara continued to amaze for the Miami Marlins with another dominant and durable display, claiming 10 strikeouts across eight innings in their 2-1 win over the Los Angeles Angels.
Alcantara, who came into the game with an ERA of 1.95, gave up two hits which were both singles across eight innings. He tied the longest streak in the MLB since 2014 for seven or more innings pitched in 11 straight starts.
The 26-year-old Dominican sent down an 100 mph pitch after the sixth inning, the 12th time he has done that this season. No other starter has done that once.
Bryan De La Cruz's fifth inning homer had put the Marlins 2-0 up, before Tanner Scott closed it out despite a scare after Taylor Ward's sacrifice fly got Michael Stefanic home.