Scherzer embracing pressure after blockbuster Mets move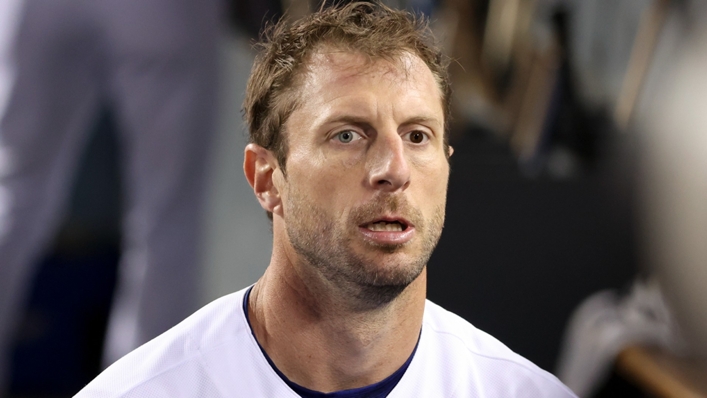 Max Scherzer is embracing the pressure associated with his blockbuster switch to the New York Mets, who also confirmed the arrivals of Starling Marte, Mark Canha and Eduardo Escobar.
The Mets caused a splash in MLB free agency after signing future Hall of Famer Scherzer to a mammoth three-year, $130million contract.
Scherzer's $43.3m per season deal is the largest in MLB history as the three-time Cy Young winner prepares to team up with fellow superstar ace and two-time Cy Young winner Jacob deGrom.
"The pressure is a privilege, not a problem," World Series winner Scherzer told reporters during his introductory news conference on Wednesday.
Scherzer was acquired by the Los Angeles Dodgers from the Washington Nationals during the 2021 season, going 15-4 with a 2.46 ERA for both teams – a number only bettered by 2021 National League (NL) Cy Young winner Corbin Burnes of the Milwaukee Brewers.
The 37-year-old was third for winning percentage (78.9) last season and fourth for strikeouts (236).
Overall, Scherzer is 190-97 with a 3.16 ERA in his career for the Arizona Diamondbacks, Detroit Tigers, Nationals and Dodgers.
"I called Jake after our meeting just to get a sense of what New York was like, how he's feeling and just get a state of where he's at, and came away happy with it," Scherzer said.
"The dream of pitching with him -- we can do some great things together. I've been very fortunate throughout my whole career to have great starting pitchers beside me. I know how powerful that can be when you have guys to feed off of and watch great pitchers."
The Mets, who last won the World Series in 1986, are coming off their fourth losing season in five years after missing the playoffs once again.
"Max is one of the greatest pitchers of this and any generation -- 190 wins, more than 3,000 strikeouts, three Cy Youngs, a World Series ring and he went 15-4 this past season with a 2.46 ERA," said Mets owner Steve Cohen.
"He is a Hall of Famer who knows how to win, and that's a great quality to add to the clubhouse, too. Now we get to pair Max with one of the other great generational pitchers, Jacob deGrom.
"I told you last year I wanted to win, and I talked about sustained winning and winning championships, and I mean it. And I think the Mets today are closer to that than we were then. We are a better team today than we were two weeks ago."
The Nets also confirmed deals for All-Star outfielder Marte and Canha – both from the Oakland Athletics – and 2021 All-Star Escobar via the Brewers.
"I've had a good relationship with Robinson Cano, and I've always wanted to be his team-mate," Marte said. "I have a lot of family in New York and I felt like it was the right time for me to take on this opportunity."
"When I saw those names, I was like, 'OK, we're cooking a little bit now,'" Canha said.