Klopp: Salah 'suffering' after Liverpool's dominant front three disbanded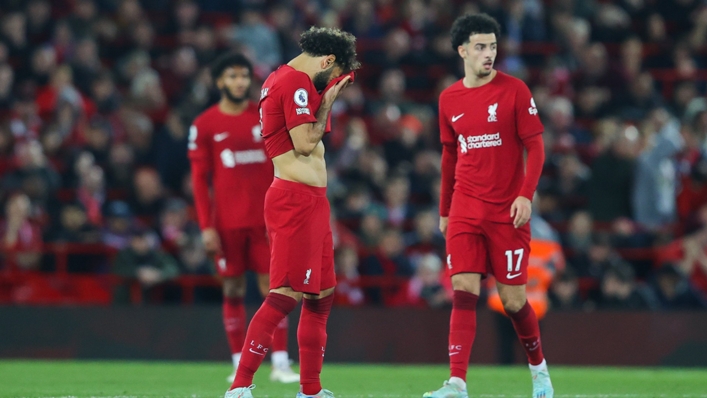 Mohamed Salah is "suffering" after seeing Liverpool's "well-drilled machine" frontline disbanded this season, according to Jurgen Klopp.
Sadio Mane left for Bundesliga champions Bayern Munich prior to this term, while Roberto Firmino has seen his role diminished after the arrival of Darwin Nunez and more recently Cody Gakpo.
Egypt international Salah remains the constant in Klopp's front three, though he has struggled in front of goal this campaign – converting just 11.7 per cent of his chances for seven Premier League goals.
That mark may seem poor for the three-time Premier League Golden Boot winner, whose previous lowest conversion rate for Liverpool was 14.4 per cent when he scored 19 in the 2019-20 campaign.
"Of course he is suffering," said Klopp ahead of Sunday's FA Cup fourth-round clash with in-form Brighton and Hove Albion. "It is specific, offensive play that requires a lot of work and a lot of information."
Salah, Firmino and Mane fired Liverpool to a Champions League crown and the Premier League title, though that front three are now a distant memory at Anfield.
"It was a well-drilled machine the front three, everything was clear what we were doing," the German added.
"You create a feeling about a lot of these things, about where your team-mate is and where to pass the ball without looking."
Gakpo and Nunez are among the new faces tasked with reinventing Liverpool's attacking fortunes but Klopp acknowledged it will take time for his side to adapt.
"Now we have Cody as a really important asset, like a connector, he can play the wing and the centre as well," he added.
"When Darwin is playing there he is obviously more high up, going in behind. We never played with a nine before, even when Sadio played in the position he was dropping in moments.
"It is all good if they would all be in and we could build something, but we haven't been able to do that yet."
Diogo Jota is nearing a return to bolster a Reds attacking line-up in desperate need of some form, yet Klopp believes Liverpool – who are ninth in the league – have greater concerns than a misfiring attack.
"If you had scored hundreds of goals in the past and now you are not scoring then that is the first thing you would think about but that is not our problem at the moment," he said.
"But usually you have a real basis to build on and that is what we don't have. The problem is you need time and nobody wants to invest time.
"I wish everything would be easier again and that already we had qualified for finals at the end of the season. This situation is not perfect but the basis of the last two games is something I like."
Tags