Sadio Mane is back firing again for Liverpool after a difficult 2020-21 campaign for the Senegalese star.
A stoppage-time goal at Leeds rounded off an impressive 3-0 victory for the Reds and was just reward for Mane's efforts at Elland Road.
Now the forward faces one of his favourite opponents in Crystal Palace and could set a new Premier League record at Anfield.
So is Mane back to his best, or will last season's struggles return?
Difficult times
Back in May, Mane admitted he felt like it had been the worst season of his career.
The 29-year-old suffered a dismal start to 2021, scoring just three times in 19 games between the turn of the year and the penultimate game of the season.
Liverpool went on a torrid run as they failed to mount a title defence and Mane's form was one of the obvious problems.
He said: "This is the worst season of my career. I have to admit it.
"If you ask me what is wrong I will struggle to give you an answer. Personally, I don't know.
"I have always tried to be positive, whether things are going well or badly. I question myself all the time.
"I even underwent a test to take a look at my body. Am I eating the right foods, or has everything changed? But they checked the test results, and everything is fine."
Mane ended the campaign with a brace in the 2-0 win over Palace, hinting that maybe all was not lost for the pacey star.
Strong start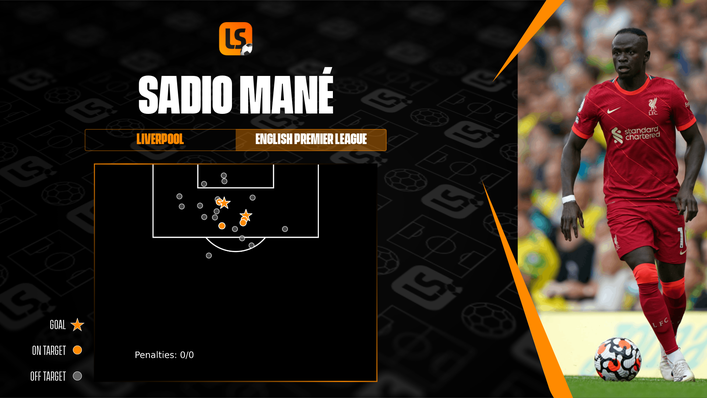 That display on the final day of the 2020-21 season has proven a catalyst for one part of the Reds' famous front three.
Though he did not net in the 3-0 thrashing of Norwich on the opening day, Mane marked the fans' return to Anfield with a goal against Burnley.
And at Leeds last weekend the Senegalese international was a constant threat to the Whites backline.
He had 10 of Liverpool's 30 shots at Elland Road and should not have had to wait until the 92nd minute to open his account.
On commentary, Sky Sports' Gary Neville said: "He scored it emphatically but he's almost apologising to his team-mates, saying he can't believe it's taken that long! He's had great chances but he didn't mess around with that one."
But Klopp will be thrilled at Mane's display as he found himself in dangerous positions time and time again.
Through the first four matches of the season, no player has accumulated more shots than him, with his 26 efforts way ahead of Michail Antonio's 17 in second.
Best of enemies
There is no better opposition for Mane to continue his promising start to the season with than Palace.
He has scored in each of his last eight Premier League appearances against the South London outfit — no player has ever scored in nine consecutive games against a single opponent in the competition.
But it is not just at Liverpool where Mane has enjoyed success against Palace.
He scored three goals in four games for Southampton against the Eagles and has found the net in all six home games against them — including two for the Saints.
New Eagles boss Patrick Vieira is more than aware of Mane's talents too, having gone in to bat for him after he finished fourth in the 2019 Ballon d'Or voting.
Then managing Nice, Vieira said: "I find it unfair. I find it unfair compared to what he did, compared to the number of games he played, compared to the number of times he was decisive.
"Considering the involvement he had had in goals, and importantly the way he behaved on the field, I think he deserved much more than fourth place."
That season Mane had netted 26 times in all competitions as the Reds finished second and won a sixth European Cup.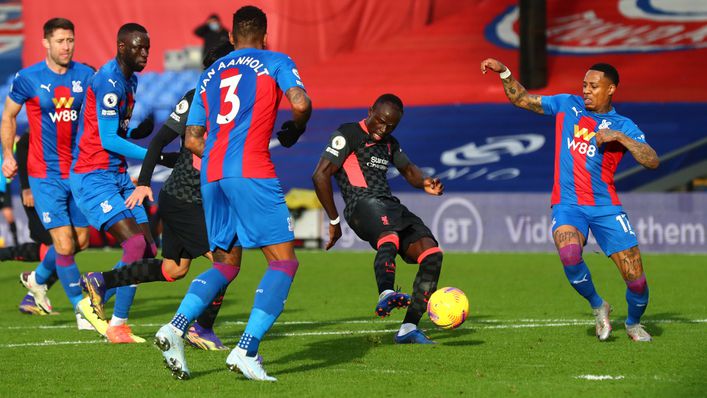 Palace's Reds struggles
Vieira will look to succeed where Roy Hodgson failed and actually pick up some points against the Reds.
The Eagles have shopped 24 goals in their past eight games against Mane and Co, including a humiliating 7-0 defeat at Selhurst Park last season.
But Vieira wants his side to go there with the belief that they can cause an upset after an impressive 3-0 victory over Tottenham.
He said: "You're speaking about one of the greatest teams in Europe, not just the Premier League.
"We can't be surprised by the way they are performing week-in, week-out. We have to be prepared.
"We have to go on the field with personality and try to give them problems because there are some weaknesses we have to exploit. To exploit those weaknesses we have to be brave.
"If we go there and are thinking about defending for 90 minutes they will score goals because they have the ability to do it. We need to take our chances. We need to play with 100% belief and confidence.
"If not there is no point going there. It will be tough and challenging but these are exciting games to get involved and try to perform in."