Ryder Cup: Stricker insists DeChambeau-Koepka feud is a 'non-issue'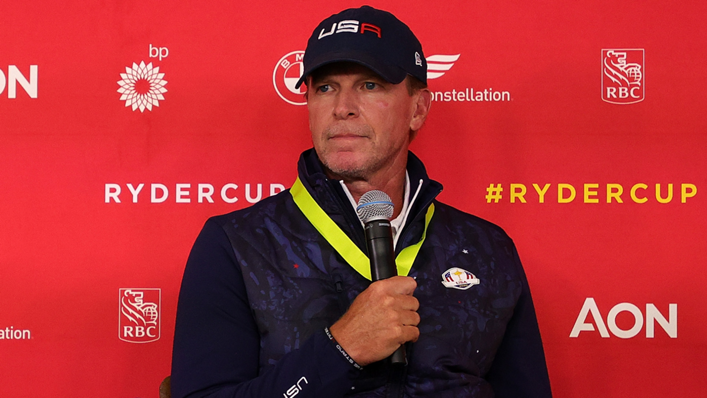 US Ryder Cup captain Steve Stricker says the bubbling feud between top 10 pair Bryson DeChambeau and Brooks Koepka will be a "non-issue" at this weekend's team play event at Whistling Straits.
DeChambeau and Koepka have a history of trading public blows, having never hidden their dislike for one another.
Koepka called out DeChambeau for slow play in 2019, while the 2020 U.S. Open champion poked fun at the four-time major winner's physique in January last year.
DeChambeau's coach Mike Schy said this week that the 28-year-old wants to end the dispute, with that sentiment reiterated by Stricker prior to the Ryder Cup which starts on Friday as the US seeks to reclaim the trophy from Europe.
"It's a non-issue, really, for me and the team," Stricker said. "We got together a few weeks ago and I've had conversations with them both.
"They have assured me it's not going to be an issue. I have no worries whatsoever."
The US Ryder Cup team features 2021 Open Championship winner Collin Morikawa, 2020 Masters champion Dustin Johnson, Justin Thomas, Patrick Cantlay along with DeChambeau and Koepka.
Stricker unsurprisingly admitted that the latter two would likely not be paired together for the team play event.
"Will we pair them together? I don't think so at this point but things could change," Stricker said.
"Could always happen but probably not. Again, I had a dinner; they all showed up. We had great conversation, great talks.
"I'm not seeing it as an issue at all and they are completely on board."
Stricker also revealed that 15-time major winner Tiger Woods will not attend the Ryder Cup this weekend as he continues his rehabilitation from his February car accident.
Woods, 45, sustained multiple leg injuries in the single vehicle collision accident.
"I think it's just not a good time for him to be here physically because of where he's at in his rehabilitation," Stricker said.
"It's a tough course to walk. Everybody is going to see it, from tee-to-green, it's difficult."
Woods has taken up roles at the past four international competitions with the US, including playing captain at the 2019 Presidents Cup and is passionate about team play.
"He's been obviously in my ear a lot and I call him pretty regularly," Stricker said. "He's part of our Ryder Cup team. He's part of what we do."
Stricker added: "He's getting better and his focus and mine is on making a comeback to play again. We don't want to get in the way of that because we would all love to see him come back and play."