Ryder Cup: Thomas downplays US favouritism amid strong European history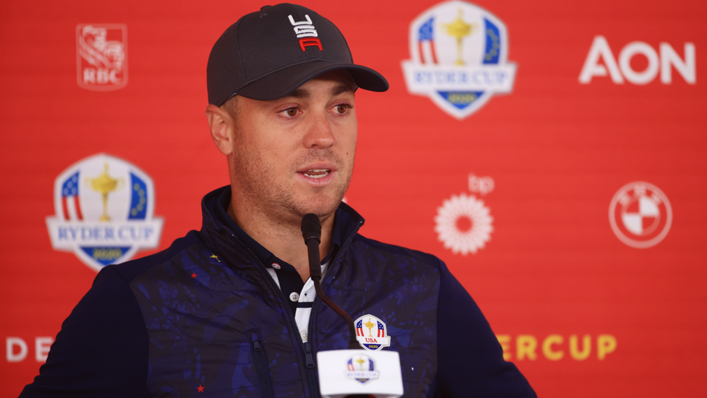 World number three Justin Thomas has played down the United States' favouritism at the upcoming Ryder Cup despite boasting eight of the current top 10 players in the world.
The US are seeking to re-claim the Ryder Cup at Whistling Straits starting on Friday, with Europe having won seven of the past nine events. Europe has also won four of the past five Ryder Cups.
The hosts boast an excellent team, including 2021 Open Championship winner Collin Morikawa, last year's Masters' winner Dustin Johnson, last year's U.S. Open winner Bryson DeChambeau, Tokyo Olympics gold medalist Xander Schauffele and recently crowned PGA Tour Player of the Year Patrick Cantlay.
Europe only has one player currently ranked inside the top 10, being 2021 U.S. Open champion and world number one Jon Rahm.
"You can dive as deep as you want into the pairings, into who's sitting, who's playing, but at the end of the day whatever team plays the best is going to win," Thomas said.
"We have 12 unbelievable players, they have 12 unbelievable players, and it's really just who's going to go out there and get it and who's going to go out and execute the best.
"I've watched many Ryder Cups on TV, and it's who makes the putts, who flips those matches, who grinds out the halves and who gets it done. I'd go to war with these 11 other guys and our captains like I'm going to do this week, and I have all the faith in the world in all the rookies. I think their experience proves that they are beyond rookies.
"It's going to be a fun week. It was a fun week for me in France just in terms of the atmosphere and experience and all, and I'm sure the fact that it's on U.S. soil will help those nerves a little bit."
Thomas revealed he had spoken to 15-time major winner Tiger Woods, who will not join the team in Wisconsin as he continues his rehabilitation from multiple leg injuries sustained in a car crash in February.
Woods has previously been involved in the past four team events for the US in some capacity, including as captain at the 2019 Presidents Cup in Australia.
"I got together with him a couple times last week," Thomas said. "More so just going over to see how he's doing as a friend, more than as a vice captain."
"He's so into it. He obviously wants the best for our team. He wants the best for all of us. It means a lot to him.
"I think people would be surprised -- obviously you all saw in Australia how much it meant to him, but just the amount of work and the amount of hours he's willing to spend to make sure that he feels like the team is prepared and as ready to go as possible is pretty cool.
"At the end of the day he also understands that we're 12 of the best players in the world, and we know how to play golf. Sometimes less is more, so I think he's great at balancing that out."