Ryder Cup: Garcia and Rahm to team up as Europe pick veterans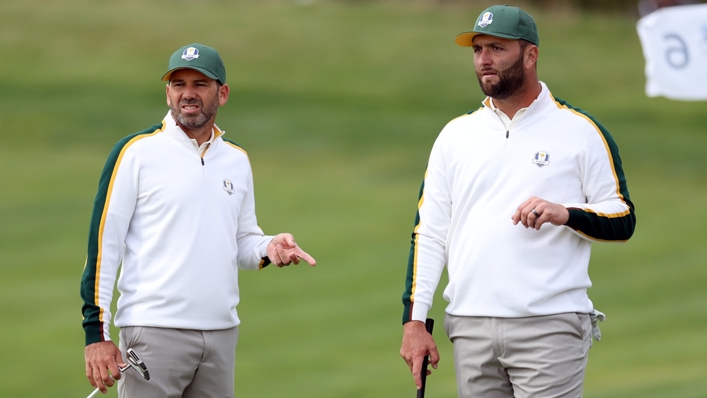 Europe will look to their Ryder Cup veterans to set the tone when play begins at Whistling Straits on Friday.
Captain Padraig Harrington's four oldest players, all in their 40s, will feature for Europe in the morning foursomes against a youthful USA group whose oldest player, Dustin Johnson, is 37.
All-time Ryder Cup scoring leader Sergio Garcia, 41, will lead the charge with world number one Jon Rahm as the Spanish pair face Justin Thomas and Jordan Spieth in the opening match in Wisconsin.
"We would have been aware that JT and Jordan would have gone first, obviously, so we were going to lead ourselves with a strong partnership," Harrington told a news conference. "The whole world will be watching that one."
Teeing off next, Paul Casey (44) will team with rookie Viktor Hovland against Johnson and Open Championship winner Collin Morikawa, followed by Lee Westwood (48) and Matthew Fitzpatrick against Brooks Koepka and Danel Berger.
The final matchup of the opening session will pit Ian Poulter (45) and Rory McIlroy against the rookie American duo of Patrick Cantlay and Xander Schauffele.
"We've gone with an experienced setup, no doubt about it, but it was our strong setup," Harrington said. "It just happened to be experienced. I was happy with that, there's no doubt, when it came out like that and you're looking at it and you go, yeah, that's very experienced. That is a big bonus.
"But it didn't weaken our fourballs – that was very important. We still have a strong fourball setup and we haven't taken from the afternoon by going with a strong setup in the morning."
Europe will leave Tommy Fleetwood, Tyrrell Hatton, Shane Lowry and Bernd Wiesberger on the sidelines for the opening matches, while the USA will do the same with Bryson DeChambeau, Harris English, Tony Finau and Scottie Scheffler.
While the Europe captain said it was safe to assume his players who will sit out the morning will play in the afternoon fourballs, his US counterpart Steve Stricker declined to be drawn on that topic – though both captains said their foursome and fourball pairings were set and communicated to their teams early in the week.
Each also said he was focused on his own side as opposed to worrying about what the other team might be doing, though both put special emphasis on the first and fourth matches.
"We talked occasionally about maybe who they're going to put out, but it doesn't matter," Stricker said. "I mean, they're all such great players, they're all highly ranked players and we know that we're going to have to play our best to to beat them.
"We had an idea that Rory and Rahm would probably go one and four, and that's pretty much all we knew, or really thought about. We didn't know who their guys were going to be paired with but we kind of had that figured out, so we tried to act accordingly as well."
Asked whether any of his players had expressed disappointment in not being included in the morning pairings, Stricker immediately responded "not at all."
"These guys have been incredible," he added. "I can't stress it enough, really, and it's about the communication that we've had, the captains and myself, and being upfront with them and just letting them know what we're thinking, so there's no curveballs.
"We've heard it multiple times from all the players: If you want to play me once, or all five, you know, that's up to you – meaning the captains – and just so we can try to win this Cup."
Justin Thomas and Jordan Spieth (USA) v. Jon Rahm and Sergio Garcia (EUR)
Dustin Johnson and Collin Morikawa (USA) v. Paul Casey and Viktor Hovland (EUR)
Brooks Koepka and Daniel Berger (USA) v. Lee Westwood and Matt Fitzpatrick (EUR)
Patrick Cantlay and Xander Schauffele (USA) v. Rory McIlroy and Ian Poulter (EUR)