VIDEO
World No1 Scheffler reduced to tears after record-breaking Ryder Cup defeat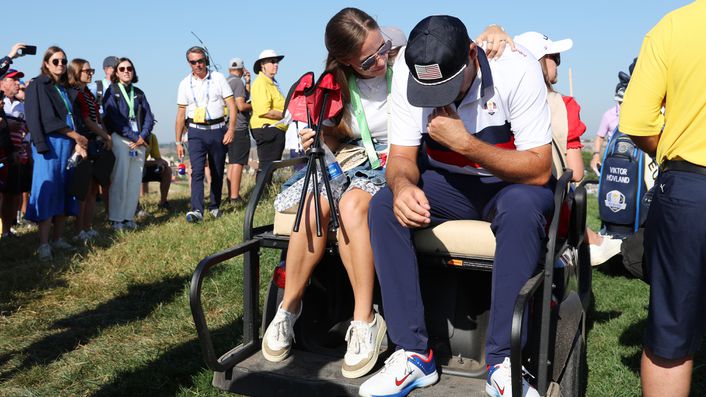 World No1 Scottie Scheffler broke into tears after suffering a record-breaking Ryder Cup humbling.
The American was pictured crying and being consoled by his wife Meredith after he and playing partner Brooks Koepka were hammered 9&7 by Viktor Hovland and Ludvig Aberg in Rome.
Their staggering loss is the biggest in an 18-hole match in the competition's history.
Scheffler and Koepka failed to win a single hole of the 11 played.
Europe took a dominant seven-point lead after the Saturday morning foursomes, with Rory McIlroy and Tommy Fleetwood prevailing over Jordan Spieth and Justin Thomas.
McIlroy told the BBC: "I have been waiting for this opportunity for two years.
"Whistling Straits [in 2021] was a disappointment and I wanted to put it right and redeem myself a little bit.
"I have been able to do that over the first day and a half and now I have the opportunity to try and go unbeaten for the week.
"I'm in a position where I can see the finish line. We want to win both sessions today. That is our goal."
After the first day of play saw Europe race ahead, Team USA captain Zach Johnson revealed illness had affected their camp.
He said: "I'm grateful we have a team doctor.
"The bottom line is there's been some unforeseen things that we've had to navigate around, which is really unfortunate, in the sense of health.
"It's not an excuse, because we have depth. We have got some congestion and some signs of things that are unfortunate.
"It's one of those where sometimes the energy is probably a little low, but the ability and desire to go out and play is still there.
"That's what we are weighing up. Every one of them still wants to play every match, which is encouraging."