Russell explains Mercedes protest after British Grand Prix red flag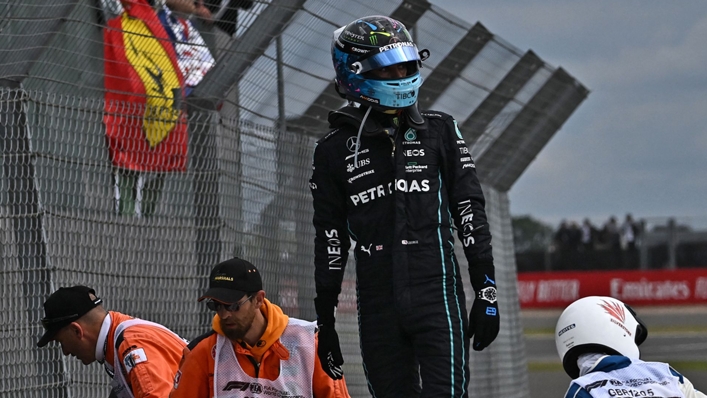 George Russell has explained Mercedes' protest after they were unable to restart the British Grand Prix following a red flag after a "unique scenario" on the opening lap.
The British driver collided with Alfa Romeo's Zhou Guanyu in a huge collision heading into the first corner, which left Zhou's car skidding off upside down into the barrier.
Zhou was retrieved from the vehicle and eventually stretchered away. It was later confirmed that the Chinese driver was conscious, with the incident leading to a delay of almost an hour as the barrier was repaired after the crash.
Zhou, Williams' Alex Albon and Russell were all unable to take to the grid however, though Mercedes tried to protest with the FIA by arguing that Russell had only exited his car in order to check on Zhou.
"I jumped out of the car to see if he was okay, I saw it was red flagged. When I came back to the car, I couldn't get it started, so I ran down to the team to check, I told the marshals to leave it but when I got back the car was on the back of the flatbed," he explained to Sky Sports F1.
"Apparently when you get assistance, you can't restart. The car just had the puncture and there was no doubt that we had the pace to come back to P6 today.
"We were trying but the FIA were pretty adamant, it's one of those unique scenarios I guess. I can't really think about it too much at the moment."
Russell's collision with Zhou came after a bold decision from Mercedes to start on the hard-compound tyre, which he conceded was ultimately not the right call.
"Ultimately, we took a risk starting on the hard because I made a mistake in qualifying, we started out of position and we thought the risk gave us the best opportunity later in the race but there was no grip on the hardest compound, it's cold out there, I got swamped by all the cars," he said.