Rooney: I could manage at a top club now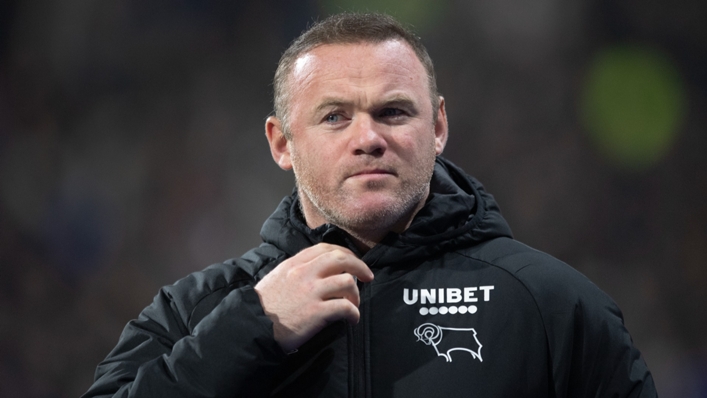 Wayne Rooney believes he is already capable of managing a "top club" in the Premier League after his experiences at Derby County.
Rooney has been Derby boss since 2020 in a tumultuous period for the Championship club, who face financial difficulties that have put their future at risk.
In testing circumstances, former Manchester United and England captain Rooney has excelled.
Despite starting the 2021-22 season with a limited squad and then suffering a 21-point deduction, Derby retain survival hopes, now within seven points of safety.
Rooney was linked to the Everton job before Frank Lampard was appointed, but the former Goodison Park favourite rejected an approach to stay at Derby.
Even so, the 36-year-old foresees a big future for himself as a top-flight coach.
"Everything that has happened at Derby has made me think even more that I can have a good career in management," Rooney told the Daily Mail.
"I believe that 100 per cent. I believe we will stay up. I think I could go into the Premier League and manage at a top club now. I have no worries about that.
"I know what my strengths are and, more importantly, I know what my weaknesses are."
Rooney revealed his late-career stint in MLS with DC United was "almost training" to adapt to the standard of the Championship, "to almost get to understand that level of player more".
It is an approach that has paid off, although the situation at Derby has presented additional challenges.
"I was a bit disappointed because I saw Neil Warnock say I wouldn't get an easier job because there's no pressure," Rooney said. "If he came in here, he'd drive in, have a look around and drive straight back out."
Comparing the emotions of leading a team from the sidelines rather than on the pitch, Rooney added: "When you lose as a manager, it's worse than when you lose as a player, because you're making all the decisions.
"You think: 'Should I have played this player, should I have done this?' There's a lot going through your mind.
"But when you win a game as manager, it's better than when you won as a player."
Tags