Roethlisberger's Steelers hold off Ravens in wild AFC North battle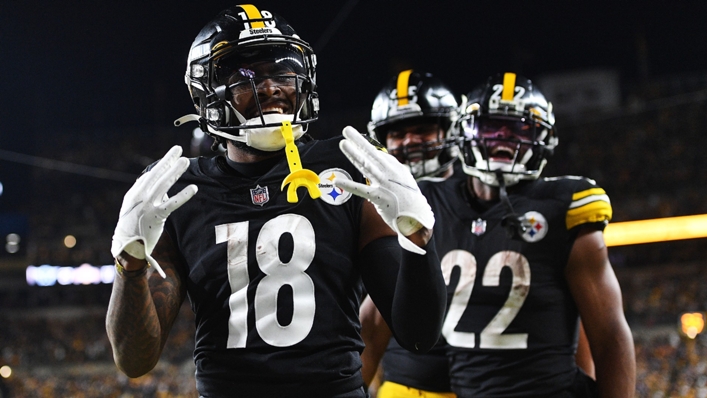 The Pittsburgh Steelers survived a wild finish as Ben Roethlisberger's team held on to edge Lamar Jackson and the Baltimore Ravens 20-19 in the NFL.
Baltimore went for the two-point conversion and the win after the Ravens scored a touchdown with 12 seconds remaining on Sunday, but Jackson's pass went agonisingly off Mark Andrews' fingertips with the endzone in sight.
The Steelers prevailed in another thrilling AFC North battle to snap a two-game skid after Roethlisberger (21-of-31 passing for 236 yards and two TDs) threw two fourth-down touchdowns to fuel Pittsburgh.
After a scoreless opening period, Devonta Freeman rushed for a TD as the Ravens (8-4) took a 10-3 lead into the final quarter away to the Steelers (6-5-1).
The fourth period came to life, veteran quarterback Roethlisberger started the comeback with an early 29-yard touchdown pass to Diontae Johnson before the pair combined against less than two minutes from the end.
Trailing 20-13, former MVP Jackson (23-of-37 passing for 253 yards and a touchdown) led an eight-play, 60-yard drive for his only touchdown of the game but Baltimore were unable to complete the two-point conversion at the death.
Since the 2016 season, six of Pittsburgh's seven wins against Baltimore have come by seven points or less, per Stats Perform.
Seahawks snap skid by sinking Niners
The Seattle Seahawks needed a victory and they got it after powering past the San Francisco 49ers 30-23.
In a mistake-filled contest, the Seahawks ended their run of three consecutive losses behind Russell Wilson's two-touchdown display in Seattle.
Future Hall of Famer Adrian Peterson made his debut for the Seahawks and scored his 126th career touchdown on a one-yard rush. It broke a tie with Hall of Famer Walter Payton and moved the 36-year-old into a tie with Jim Brown for 10th in NFL history.
Jimmy Garoppolo threw two interceptions for the beaten 49ers.
The Los Angeles Rams also snapped a three-game skid, rolling over the Jacksonville Jaguars 37-7 after Odell Beckham Jr., Cooper Kupp and Van Jefferson all caught TD passes from Matthew Stafford.