Rodriguez and Ortiz on Baseball Hall of Fame ballot for first time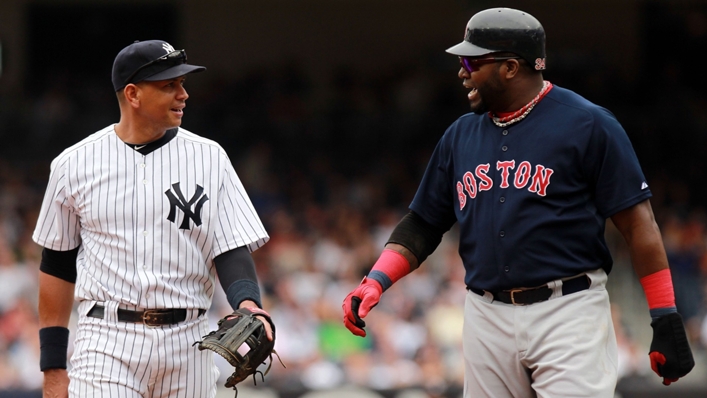 Alex Rodriguez and David Ortiz are among the newcomers on the ballot for the Baseball Hall of Fame's Class of 2022, which was announced Monday by the Hall.
Their arrival coupled with 2022 being the last year on the ballot for Barry Bonds and Roger Clemens guarantees questions about how the game should grapple with the legacy of performance-enhancing drugs will remain at the forefront for another election cycle.
Ten-year members of the Baseball Writers' Association of America (BBWAA) can vote for up to 10 of the 30 players on this year's ballot, and a candidate must receive at least 75 per cent of the votes to be elected. Results will be announced on January 25.
The BBWAA did not elect anyone last year, with Curt Schilling coming the closest at 71.1 per cent followed by Bonds (61.8) and Clemens (61.6).
All three will be in their 10th and final year on the writers' ballot, along with Sammy Sosa.
Bonds, Clemens and Sosa have seen their candidacies stall thanks in part to long-standing rumours of PED use, and Rodriguez and Ortiz could face similar hurdles.
Unlike the others, Rodriguez was suspended for violating MLB's drug policy, missing the entire 2014 season, while Ortiz reportedly was among the players who tested positive during unofficial survey testing in 2003.
Voters will have to weigh that against their impressive on-field accomplishments. Rodriguez is one of the best hitters the game has ever seen, a three-time American League MVP and 14-time All-Star whose 696 home runs and 2,086 RBIs rank fourth in baseball history.
Ortiz was a 10-time All-Star who led the Boston Red Sox to three World Series titles after a decades-long drought for the franchise and remains one of the most beloved figures of his era.
Other first-time players on the 2022 ballot include longtime first baseman Mark Teixeira, 2007 National League MVP Jimmy Rollins, 2006 AL MVP Justin Morneau, 2007 NL Cy Young Award winner Jake Peavy and the man who won that award the next two seasons, Tim Lincecum.
Closers Joe Nathan and Jonathan Papelbon, catcher A.J. Pierzynski, speedy outfielder Carl Crawford and slugger Prince Fielder also are on the ballot for the first time.
Players must get at least five per cent of the vote each year to remain on the ballot for the following election.
Other holdovers from previous ballots back this year include Scott Rolen (52.9 per cent last year), Omar Vizquel (49.1), Billy Wagner (46.4), Todd Helton (44.9) and Gary Sheffield (40.6).