Edwards warns Luton 'if we get carried away we have no chance'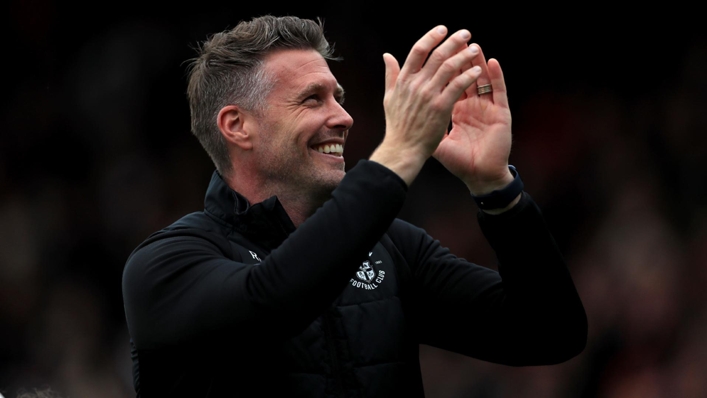 Rob Edwards called for Luton not to get carried away as they chase promotion in Saturday's Sky Bet Championship play-off final against Coventry at Wembley.
Luton eye promotion to the Premier League for the first time and a win over Coventry would round off their fourth promotion in 10 seasons.
Manager Edwards refused to romanticise the club's journey and highlighted the importance of a grounded mentality ahead of Saturday's all-or-nothing showdown.
"I try and keep a clear head but I know the magnitude of the game and we all do, there's no point in not talking about it, there's nothing wrong with dreaming and aiming for (promotion), Edwards said.
"We are there now, in touching distance. It's one game, we know we are capable.
"But the one thing we need to do is make sure we are the best version of us and prepare as normally as possible. We have to work as hard as we usually do, organise the same and if we get those bits right you stand a chance – the basics.
"If we get carried away then you have got no chance in a game like this so my job is to make sure we concentrate on the stuff we can control and we have to work as hard as we always do."
Edwards heaped praise on Coventry, whose 22 clean sheets this season were the most of any Sky Bet Championship side.
The two sides met twice over the course of the season, drawing 2-2 in September and 1-1 in February.
"We have a decent idea of them and they have a decent idea of us as well, we've looked at each other twice during the season and watched countless numbers of games as well so there won't be too many surprises on the day, said Edwards, adding that his side cannot just focus on Coventry's star men Gustavo Hamer and Viktor Gyokeres.
"They have some more good players than just those two – who are excellent, they are top individuals.
"But they have got quality all over the pitch and really well coached by Mark (Robins) and Adi (Viveash) so they have got a real clear way of playing and that helps you over the course of a season.
"They've been building over a good few years and it's served them well so of course they are more than two players, but you need outstanding individuals to make the difference and those two lads are the key ones this year."
Edwards admitted the playoff final is the biggest occasion in his seven-year managerial career and understands the importance of victory.
"There's not a comparable game I've been a part of with this level of interest and what it is worth financially and people watching, it is a new experience for me," he said.
"I am pleased to have been involved in big games at big stadiums and our players have as well but me stood on the touchline, it will be a great experience."
Tags