Silva says Richarlison banana incident is 'not good for football'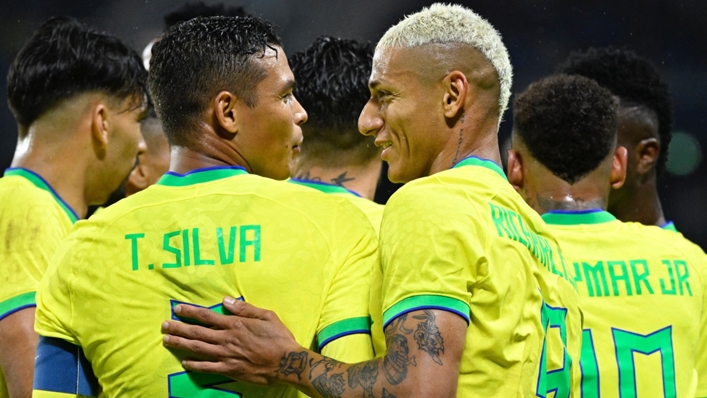 Brazil defender Thiago Silva was "very sad" after team-mate Richarlison appeared to be subjected to racist abuse in a friendly win over Tunisia.
Video footage showed a banana being thrown at Richarlison as he celebrated scoring Brazil's second goal in Paris.
Silva previously played at the Parc des Princes – which hosted a large Tunisian contingent – with Paris Saint-Germain.
"It hurts me," the Chelsea defender said of the incident. "Frankly, I'm very sad. That's not football. Football is about supporting your team.
"Afterwards, on the field, we give our best for our team. But gestures like that [shown] on video, it's not good for football."
Discussing his return to Paris, Silva added: "It was good to come back to the Parc. Unfortunately, the atmosphere was against us. Normally, here, it is a good atmosphere for me, but today the public was against us.
"But it was good to come back here. I spent eight years, eight and a half years here – it was a good time to come back."
On the pitch, the Selecao enjoyed a dominant performance, with a brace from Raphinha, Richarlison's goal and a Neymar penalty securing a 4-1 half-time lead.
A first international goal for Flamengo striker Pedro concluded the 5-1 rout in the second half.
Neymar's goal, his 75th for Brazil, moved the forward within two of the Brazil record, held by legendary striker Pele.
"Neymar is incredible. He is a magician," Silva said. "Unfortunately, in the past years, he had very important injuries, but this year is different.
"He prepared a lot during the vacations. I was with him in Brazil, I saw him. I hope he can continue with this mentality [and] a good health to arrive well at the World Cup."
Tags