Joelinton uncertain for Newcastle's clash with Fulham after drink-driving charge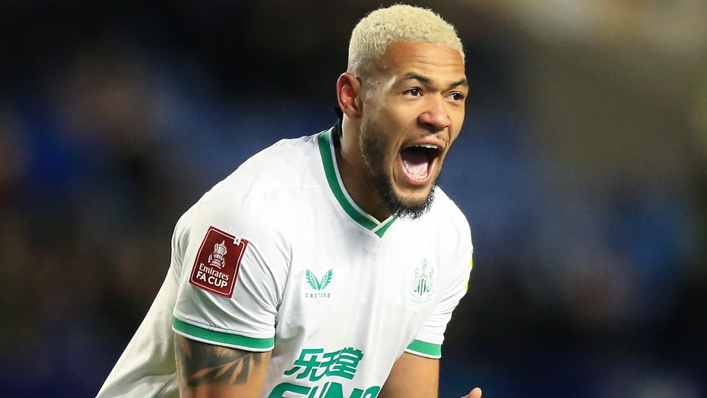 Eddie Howe will support a "remorseful" Joelinton after a drink-driving charge, but the Newcastle boss has not yet decided whether to drop the midfielder this weekend.
Joelinton starred in Newcastle's 2-0 Carabao Cup quarter-final win against Leicester on Tuesday, scoring one goal and creating the other for Dan Burn.
However, the Brazilian was arrested in the early hours of Thursday morning for being over the prescribed limit for alcohol at the wheel of a vehicle.
Joelinton will appear in court on January 26, between the two legs of Newcastle's cup tie against Southampton – the Magpies' first major semi-final since 2005.
The incident has marred what had been a great week for Newcastle, with a huge Premier League clash with Fulham to come on Sunday.
Newcastle enter the weekend in third place, with Fulham in sixth, but head coach Howe told reporters on Friday he had yet to decide what Joelinton's role would be in the match.
No player has made more appearances (47) or starts (45) or played more minutes (3,845) for Newcastle in all competitions since Howe's November 2021 appointment.
Howe added: "It came very much as a shock. Joe was very upset and remorseful yesterday.
"He knows the seriousness of the situation, and so do we as a club. I think he understands his responsibilities, and we are now supporting him.
"We will deal with the matter internally. From day one, he's been a very good professional and hugely passionate about his career and the club.
"I was very surprised about what happened. We will back him and support him but also educate him about what happened. Everyone makes mistakes."
Joelinton has turned his career around under Howe, with only three players topping his nine goal involvements in the coach's tenure.
He has played a key role in Newcastle's 13-match unbeaten Premier League streak; a 14th game without defeat against Fulham would tie the club's record run in the competition.
With or without Joelinton, Fulham represent a tough test, despite losing the reverse fixture 4-1 at Craven Cottage – a rare match in which Newcastle's number seven was left on the bench.
Marco Silva's side could even close to within a point of Champions League-chasing Newcastle with a win, but the Fulham boss said of a top-four challenge: "We are in a great position in the table, but we are not going to change anything from our goals until we achieve that.
"It is clear for me the goal is still at the same level. No one in our football club will achieve the goals until we achieve it. Until we remain in the Premier League, we are not changing anything from our aims and our ambitions.
"We are an ambitious football club, definitely, and I'm ambitious as a manager; my players, too. But we have to be realistic. We are really pleased how we have been playing, how we have achieved great results for us, but the Premier League is really tough."
Tags