Ohtani says he just wanted to have fun as he reflects on MVP season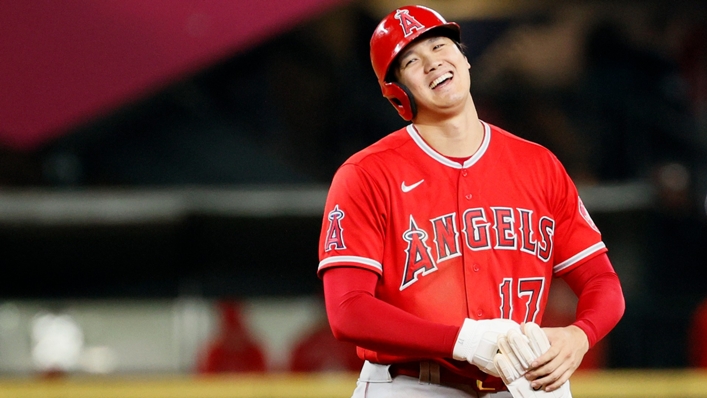 After a pair of frustrating seasons with the Los Angeles Angels, Shohei Ohtani was finally healthy in 2021, and he answered every challenge put before him on the way to an MVP season.
The two-way sensation was a unanimous choice as the American League's Most Valuable Player on Thursday – early Friday in Japan – on the heels of a season that saw him perform feats that left fans and peers alike in awe.
Ohtani easily led MLB players in WAR (wins above replacement) at 9.1 as he finished third in the majors with 46 home runs while also striking out 156 batters in 130.1 innings in 23 starts as a pitcher.
The latter was especially impressive considering Ohtani pitched only 1.2 innings the previous two seasons combined as he recovered from elbow surgery, but the 27-year-old handled the workload with relative ease this season.
"It was definitely challenging, but at the same time I had a lot of fun with it," Ohtani told reporters through an interpreter on a conference call.
"I felt like the expectations from the team were very high and I wanted to do my best to try to answer those expectations."
He added: "I've always dealt with a lot of doubters, especially from my days in Japan. I tried to not let that pressure get to me. I just wanted to have fun and see what kind of numbers I could put up, and what kind of performance I could put up."
After the voting results were announced Thursday, with Ohtani easily outdistancing Vladimir Guerrero Jr. and Marcus Semien to win, former MLB pitcher CC Sabathia tweeted that the two-way star is the "BEST PLAYER I'VE EVER SEEN".
Ohtani's Angels team-mate Mike Trout, the last unanimous AL MVP in 2014, also lauded his friend's performance.
"Shohei's season was nothing short of electric," Trout said in a statement released by the team. "At times, I felt like I was back in Little League. To watch a player throw eight innings, hit a home run, steal a base and then go play right field was incredible.
"What impresses me the most about him though, is the way he carries himself both on and off the field. With so much on his plate daily, he still manages to do it with a smile. Congratulations Shohei!"
Angels manager Joe Maddon added in a statement: "Shohei came to the States to play among the best on both sides of the ball and he accomplished that mission on the highest level
"Knowing him, this award is going to serve as motivation to exceed his previous accomplishments. I cannot wait to watch how his game helps push us to our goal of playing in the last game of the season and winning it. Congratulations to Shohei and his entire family on this special honour."
The best news for Maddon and the Angels is that Ohtani is under team control for the next two seasons, and is set to play 2022 on a team-friendly salary of $5.5million.
Ohtani brushed off a question from reporters about a possible contract extension Thursday but made it clear how he feels about his team.
"This is not the time to talk about contract stuff, but I want to make it clear that I love the Angels organisation and am looking forward to being a big part of the team for a long time," he said. "Right now I want to focus on winning next season with the Angels."