Red Bull launch RB19 car as Ford F1 return confirmed
Patric Ridge
Stats Perform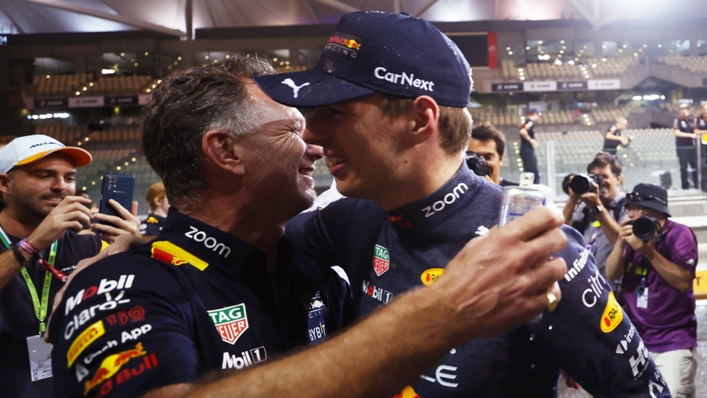 Ford will return to Formula One for the first time since 2004 and partner with Red Bull from 2026.
Red Bull revealed their RB19 car for the 2023 season at a launch event in New York City on Friday, with reigning F1 champion Max Verstappen, team-mate Sergio Perez and team principal Christian Horner in attendance.
Ford, meanwhile, will return to F1 after a 22-year absence, working with Red Bull to build a power unit for F1's next engine regulations.
"We are mavericks, we are pushing the boundaries. We are looking forward to this busy season in 2023," said Horner, whose team took the constructors' title off Mercedes last year, as well as seeing Verstappen win for a second straight year.
"It is going to be an incredible season; our rivals for sure haven't stood still. Ferrari are going to be competitive, Mercedes are going to be there; there are some other teams that could make some big progress as well.
"In Bahrain, in a couple of weeks' time, we will get to see everyone's car and see if we have missed something, have we not.
"There is going to be highs and lows along the way, but I think we are in a good place. We are going to have to be at the top of our game this season."
Of Red Bull's partnership with Ford, Horner added: "To welcome the Ford brand back into Formula One, to have the Red Bull Ford powertrain is going to be very exciting.
"There was a natural synergy between the two companies, it was an easy deal – 2026 seems like a long way away, but in the engine world, it is tomorrow.
"We have recruited some incredible talent and have some great people in the team. We are really excited about what we can achieve."
Ford's involvement in F1 began in the 1960s with a long-standing partnership with British firm Cosworth.
They are the third-most successful engine manufacturer in the history of F1, having played a part in winning 10 constructors' championships and 13 drivers' championships.
Ford chief executive Jim Farley said: "We don't want to make generic cars, faceless vehicles; we want vehicles with an attitude – this team represents that."
Horner said: "It's a huge era for the team. As Formula One moves to pretty much a 50-50 split between hybridisation and combustion power, we wanted to have a like-minded partner.
"It's great to see the Ford brand coming back into Formula One."
Tags