Williams: Tatum and Brown 'still p***** about last year'
Patric Ridge
Stats Perform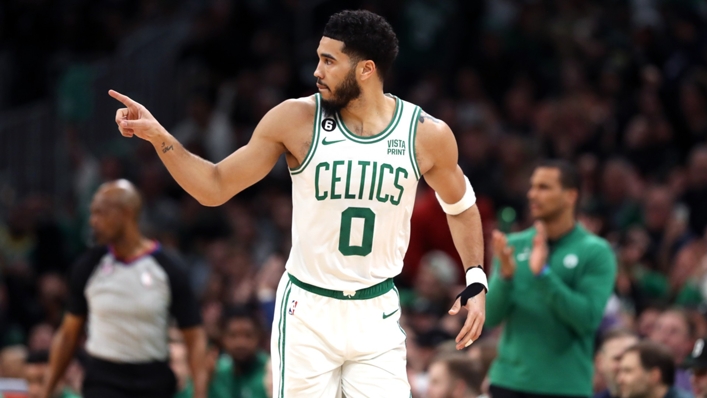 Boston Celtics' Robert Williams says team-mates Jayson Tatum and Jaylen Brown are using last year's close call as motivation to win the NBA Championship this time around.
Tatum and Brown were scintillating as the Celtics cruised to an emphatic 139-96 victory over the Brooklyn Nets on Wednesday.
The duo became the first team-mates in franchise history to each make seven three-pointers in the same game, doing so in just three quarters, while Tatum's plus-42 heading into halftime saw him better Kevin Garnett's Celtics record for a single-half plus/minus.
Tatum finished with a game-leading 31 points as well as nine rebounds and four assists, while Brown had 26 points, three assists and three rebounds. It was the eighth time this campaign that the pair have each accumulated 25 points or more.
Williams added a useful 16 points and nine rebounds from just 19 minutes of action, and he said Tatum and Brown are "carrying the team" as they look to make amends for last year's NBA Finals defeat to the Golden State Warriors.
"They take all criticism. They take all the 'he said, she said'," Williams said.
"But I love how they've been responding. Feel like they're hungry, really. You know what I'm saying? Still p***** about last year."
Only Luka Doncic of the Dallas Mavericks (1,538) has more points on the board than Tatum's 1,493 this season, while the latter's 31.1 points per game average is a career-best.
Tatum, for his part, feels the sustained level of performance from Brown and himself has been overdue as he noted "it's not done" until the Celtics clinch their first championship since 2008.
He told reporters: "It's been a long time coming. We've had our good times and not-so-good times, but I think those are just growing pains.
"We were just 19-year-old kids that came into the league hungry and trying to help our team win. We've had to learn how to play in this league, learn how to play with each other, learn how to lead the team.
"I feel like we're still a long way ultimately from where exactly we want to be, but we've made amazing strides from the beginning.
"You can tell we were ready to go from the jump. We've still got a long way to go. It's not done until we win a championship."
It was the first time in franchise history that Boston, who top the Eastern Conference with a league-best 37-15 record, outscored their opponent by at least 30 points in the first quarter, in which they scored 46 points before going on to record their biggest victory of the season.
Nets star Kyrie Irving, whose 20 points was a team-high for Brooklyn, felt there was little his side could do as they slumped to their heaviest loss since a 44-point defeat to the Portland Trail Blazers in February 2014.
"It's clear as day that they want to win the championship, and they're not wasting any time in the regular season," Irving said. "Tonight I felt like we were just one of those teams in the way, and you know, we just can't be one of those teams in the way.
"We've got to be one of those teams that stands up to them and at least shows them that we're going to be competition for them moving forward, which I believe we are. But we just didn't show it."
Tags