Rangers great Lundqvist ends stellar 15-year NHL career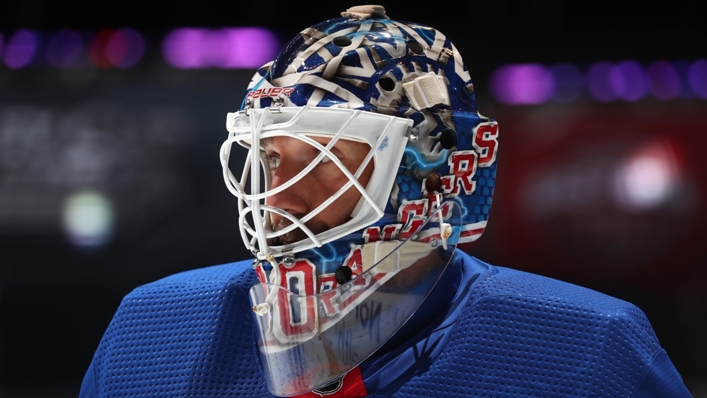 New York Rangers great Henrik Lundqvist retired from the NHL after a stellar 15-year career in the league.
A five-time All-Star and Vezina Trophy recipient as the NHL's top goaltender in 2011-12, Lundqvist made the announcement on Friday.
Lundqvist signed a one-year deal with the Washington Capitals for the 2020-21 season, but the 39-year-old never made an appearance after undergoing open-heart surgery in January.
The Swede finished his NHL career with a 459-310-96 record, a 2.43 goals-against average, .918 save percentage and 64 shutouts in 15 seasons with the Rangers, while he went 61-67 with a 2.30 GAA, .921 save percentage and 10 shutouts in 130 Stanley Cup playoff games.
Lundqvist ranks sixth in NHL history in wins, seventh in saves (23,509), eighth in games played (887), ninth in starts (871), ninth in time on ice (51,816:51) and 17th in shutouts.
"Obviously there are a lot of emotions right now," Lundqvist said at a news conference in Sweden. "For me, it started here in Scandinavium when I was five years old I saw my first hockey game here. That's how it started.
"I also want to thank all the coaches and all the players that I've had the opportunity to play with and I want to thank all the clubs that I've represented. Jarpen, where it all starter, Rogle BK, Frolunda of course, and the New York Rangers. All of them have meant so much to me during that time and place. A big part of my life has been dedicated to those teams.
"At last I want to thank all the fans. I've felt so much support here at home playing for Frolunda and the national team, and in New York. It's been giving me so much joy to feel that support. I will be forever grateful for it. ... That is obviously something that I will miss, the intense feeling of being in a rink competing."
Initially drafted in 2000, Lundqvist enjoyed an outstanding rookie season in 2005-06, ranking fourth for save percentage (92.2 per cent) and fifth-lowest for goals against average (2.24).
The 2011-12 campaign brought Vezina Trophy recognition as he kept eight shutouts in 62 games, again ranking fourth for save percentage (93.0 per cent) and fifth-lowest for goals against average (1.97).
Lundqvist did enjoy success at international level with Sweden as he claimed a gold medal at the 2006 Winter Olympics and the 2017 Ice Hockey World Championships.
He is the Rangers' leader in wins, shutouts, games played, starts, saves, time on ice and goalie points (27, all assists). Lundqvist is also New York's postseason leader in wins, shutouts, games played, games started, saves and time on ice.
"It is with mixed emotions that The New York Rangers offer our best wishes and heartfelt gratitude to Henrik Lundqvist on the announcement of his retirement," the Rangers said in a statement. "Henrik's commitment to excellence made him one of the best goaltenders to ever play the game of hockey, and we are so fortunate to have witnessed his greatness firsthand for 15 years.
"As we congratulate Henrik on an extraordinary career and a lasting legacy of success, charity and character, we are honoured to announce that we will retire his number and raise his jersey to the rafters at an upcoming game this season. Henrik is, and always will be, a Ranger."