EXCLUSIVE
Rachel Yankey column: Lionesses can emerge victorious in historic Wembley final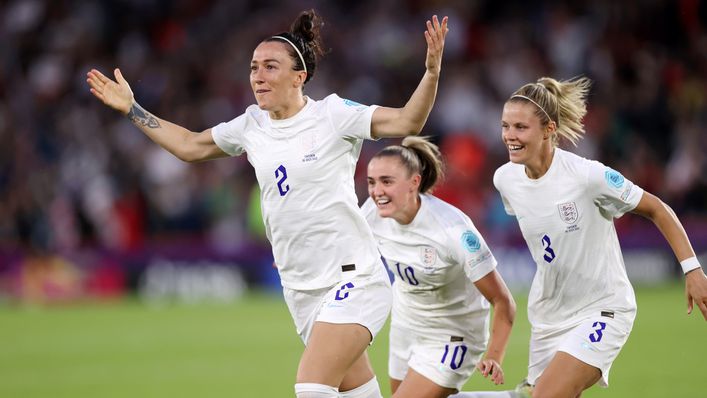 England will walk out in front of nearly 90,000 fans at Wembley against Germany on Sunday and what an occasion it is going to be for women's football.
In a way, the game is almost secondary — which sounds really stupid to say. Hopefully it is a fantastic match and we get to celebrate at the end of it.
I just keep imagining all those people walking down Wembley Way. The atmosphere is going to be truly amazing.
I remember playing at Wembley for Team GB in 2012. I don't recall too much of the game.
My overarching memory is looking out from the windows of the stadium afterwards and just seeing so many supporters still singing and enjoying themselves as they queued up to go home.
It looked like a men's FA Cup final day. I couldn't believe it was a women's match.
Sunday is a European final and it's England vs Germany, so it's going to be all that and so much more!
Stick to the plan
Germany are going to be tough opponents. But given how England have done so far, the way they've played and the goals they've scored, I believe in this group to finish the job.
England can be encouraged by Austria's performance against the Germans in the quarter-finals.
They lost the game but carved out opportunities against them, so this German side are beatable.
England have more quality than Austria and will look to exploit the same areas as Irene Fuhrmann's team did.
They will play on the front foot and take the game to Germany. That is how they have played all tournament and is their biggest strength.
You don't want to go into a final and change who you are. I can't imagine Sarina Wiegman changing her starting line-up.
Midfield battle key
This might be where the game is won and lost.
England were sloppy at some points of the Sweden win but they got away with it.
Germany probably have one of the best midfields at this tournament. If you're sloppy against them, they'll punish you.
We saw how Aitana Bonmati took charge of the game in the Spain quarter-final. Lina Magull and Lena Oberdorf are similar in that respect.
They're not scared to get on the ball and play passes. They have the energy to get all about the pitch.
Sometimes when you play a final, the day can be quite energy sapping with all the nerves, pressure and excitement.
I hope it doesn't suck the life out of the England midfielders because they're going to have to work hard.
Golden Boot showdown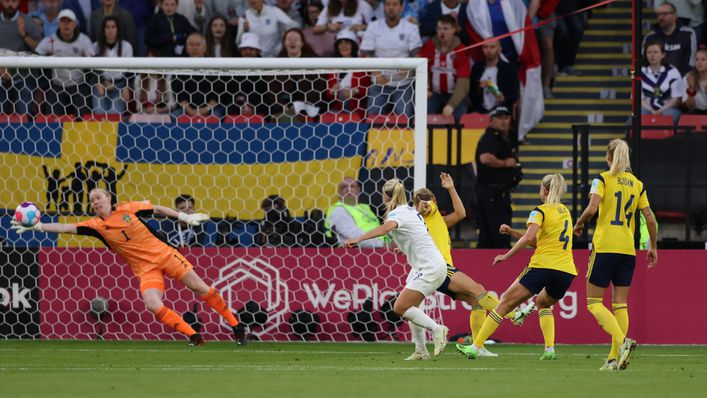 It's fitting that Beth Mead and Alexandra Popp will face off in the final because they both deserve to be there.
Mead has had a fantastic tournament. The fact she's got all those goals from a wide forward position is so impressive.
Her all-round game has been inspiring and she looks like she's enjoyed every second.
Popp would have been injured for this tournament had it gone ahead as planned last year. What a massive miss she would have been for Germany and for the rest of the tournament.
In front of goal, she's outstanding. Her movement, the different types of goals she scores. She's so clinical and powerful.
I was likening her to an absolute legend of German football in Birgit Prinz, then I saw she is part of Germany's staff so it's no surprise to see Popp performing in this way! There are so many similarities between the two.
She's an outstanding footballer and is fighting to win both the tournament and the Golden Boot. It's a potentially scary thought for England but their opponents will also be wary of Mead.
Stopping Popp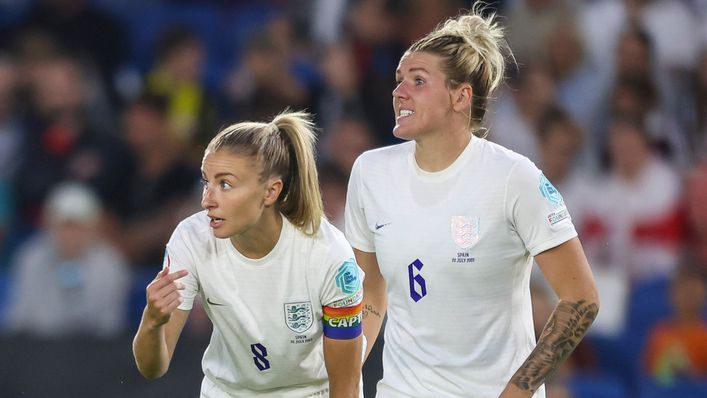 Leah Williamson and, in particular, Millie Bright are going to have to be at the top of their game to stop Popp.
It's a challenge they haven't faced so far at this tournament. They won't have come up against someone so powerful.
Her movement is key to how good she's been. She likes to play on the shoulder and with Lucy Bronze bombing forward, there is a danger England could get caught out.
I wonder whether Millie will actually enjoy this kind of duel. She is the kind of player that likes to have a physical battle.
Leah can read the game really well, so if they work together and bring out each other's strengths, they should have a successful game.
Goalkeeper Mary Earps' performance and early saves against Sweden will be a real boost. She's a keeper who hasn't had much to do at this tournament.
To be so focused when you are called upon, her team-mates know she'll be equally ready on Sunday and that is a massive positive for this England back-line.
A lasting legacy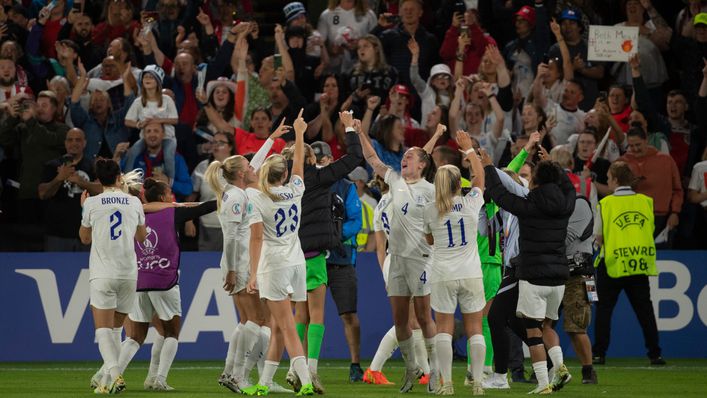 As Ian Wright said in the aftermath of the Sweden win, it's so important this tournament leaves a lasting legacy.
If all the big businesses and the news outlets stop their coverage once it's over, then what was it for?
The success of this tournament and the amount of people watching it shows the appetite is there.
There are people who have probably watched women's football for the first time and changed their mind on what they think of it.
The BBC have televised every game, which was a huge step. Making it so visible has allowed people to form their own opinion of it — they like what they've seen!
We need to make sure that every young child has the ability to watch the game, to be inspired and have visible role models.
It's OK for boys to have role models that are women. I'm sure there would be lots of boys and girls recreating that Alessia Russo goal on the playground if it wasn't the school holidays right now!
They've shown that women can be in any field they want to be.
I'm seeing grown men singing songs about Mead! They're enjoying and appreciating what they're seeing.
It's now becoming the norm and seeing that was probably my proudest moment from Tuesday night.
Those are the memories I will look back on after this tournament is finished.
Rachel Yankey was speaking to Cian Cheesbrough.
Tags