Qatar 2022 organisers hit out at Norway 'dialogue' after World Cup criticism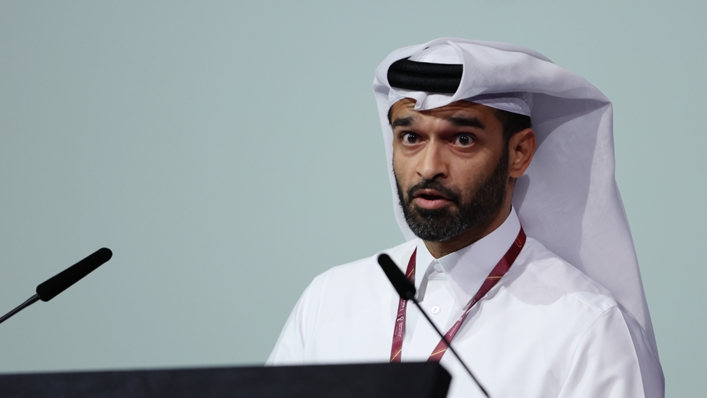 The top organiser of the Qatar 2022 World Cup has hit back at the Norway Football Association following damning criticism by the latter during FIFA's Congress in Doha on Thursday.
Hassan Al Thawadi accused Norwegian FA President Lise Klaveness of inflammatory comments over the country's human rights record ahead of the tournament, which begins in November.
This year's World Cup has been the subject of criticism since it was awarded to Qatar in 2010, with issues ranging from the treatment of migrant workers to the safety of the LGBTQ+ community.
During the 72nd FIFA congress, Klaveness – whose nation failed to qualify last year and had mooted plans to boycott if they did so – launched a blistering argument against its organisers.
"In 2010, the World Cup was awarded by FIFA in unacceptable ways with unacceptable consequences," she stated.
"Human rights, equality, democracy, the core interests of football, were not in the starting XI until many years later.
"These basic rights were pressured on as substitutes, mainly by outside voices. FIFA has later addressed these issues, but there is still a long way to go.
"There is no room for employers who do not secure the freedom and safety of World Cup workers, no room for leaders that cannot host the women's game, no room for hosts that cannot legally guarantee the safety and respect of LGBTQ+ people coming to this theatre of dreams."
Thawadi, chief executive of the World Cup Supreme Committee for Delivery and Legacy, refuted his counterpart's suggestions, and accused her of failing to open dialogue over her concerns.
"Madam president, you visit our country and made no request for a meeting," he added. "You did not attempt to contact us and did not attempt to engage in dialogue before addressing Congress today.
"I urge everybody, we have always been open for dialogue. We have always welcomed constructive criticism, criticism that is based on discussion, understanding the issues and understanding the context of the issues and the progress of the facts on the ground.
"We will always have our doors open for anybody who wants to understand the issues, who wants to educate themselves before passing any judgement."
Qatar will host the draw for this year's tournament on April 1, with 29 of the 32 sides set to compete confirmed ahead of final play-offs later this year.
Tags