Purdy set for MRI on elbow injury suffered in 49ers defeat to Philadelphia
Joshua Challies
Stats Perform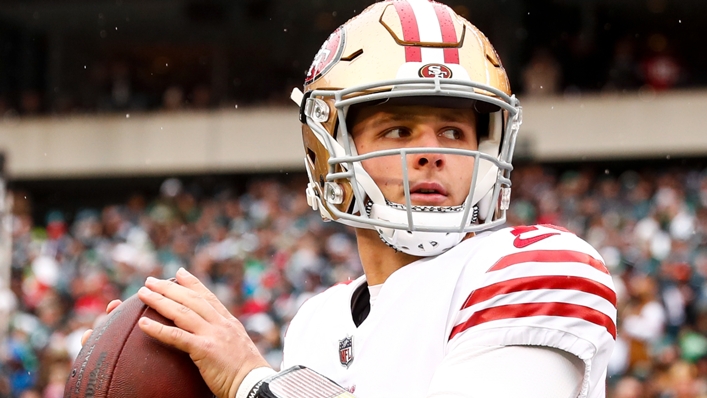 Brock Purdy has "no idea" on the full extent of the elbow injury that saw his influence in the NFC Championship game severely limited.
The rookie quarterback threw just four passes in the San Francisco 49ers 31-7 defeat against the Philadelphia Eagles, two of which came on the opening drive before he exited the game due to injury.
Unable to throw on the sidelines, Purdy was not set to go back in, but the 49ers had their hand forced when 4th-string QB Josh Johnson was ruled out in concussion protocol after hitting his head on the ground.
That led to Purdy's reintroduction to the game, but the 49ers had their passing game off the cards, with only two short completions through the air for the remainder of the contest.
Speaking after the game, Purdy confirmed he will have an MRI on Monday to find out the severity of the problem.
"I was throwing after the hit on the sidelines just to see where I was at but even in those throws it was painful. I couldn't throw anything over five-to-ten yards, so that's why we just had some screens," he told reporters.
"I told him [Kyle Shanahan] right there if we run a play, I can't throw deep. It's hurting really bad. If we're going to get a complete, it has to be something short, if that's alright.
"It felt stretched out, I felt a lot of shocks from my elbow down to my wrist. I have no idea, I'll have an MRI tomorrow. It's swollen in the forearm area."
Purdy also said he felt sorry for the more experienced teammates on the team following the loss, though Fred Warner made it clear he was the reason the team progressed so far this season.
"He has nothing to be sad about. He's the reason we even got to this game," he said.
"When Jimmy [Garoppolo] went down against the Dolphins, we didn't know what our season would be. He did a heck of a job."
Tags