Pujols launches twice against the Dodgers to bring up 700 career home runs
Liam Phillips
Stats Perform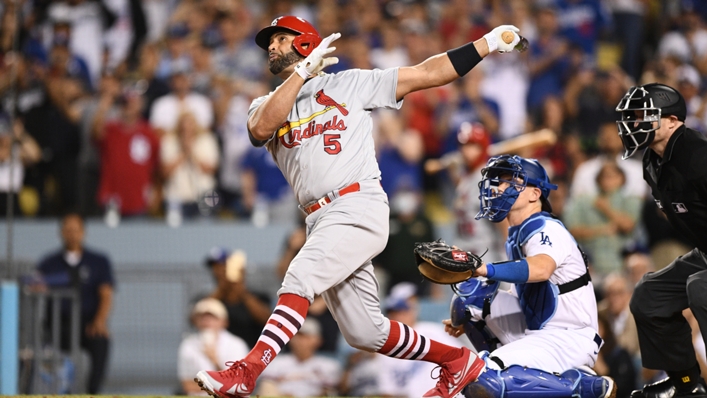 St Louis Cardinals legend Albert Pujols had a night he will never forget during Friday's game against the Los Angeles Dodgers, becoming the fourth player to ever hit 700 home runs in their career.
Pujols, 42, came into the contest with 698 homers to his name after an incredible second half of the season, with eight home runs in August and now six more in September after totalling seven combined from the first four months.
He hit number 699 in the third inning from his second at-bat of the contest, crushing a two-run shot 434 feet over the left-field wall – longer than any home run he hit at this year's Home Run Derby.
There was no lengthy wait for 700, as it came in the very next inning. After Dodgers starting pitcher Andrew Heaney was pulled from the game, relief pitcher Phil Bickford got the dubious honour of pitching the memorable homer.
On a 1-1 count, after taking two sliders, the third pitch was another slider that Pujols did not miss, this time with a 389-foot shot to a similar spot in left-field to make the score 5-0.
But the score was not relevant for his rival fans in Dodger Stadium, who rose in unison with baseball fans everywhere to celebrate the historic moment.
It was a fitting moment for Pujols, who played for the Dodgers last season when it appeared his best days were well and truly behind him, before deciding to go around one more time with the Cardinals, who he spent his first 11 seasons with.
In his past three injury-riddled seasons, Pujols hit 23 total home runs in 148 games. He now has 21 this season from 101 games.
Pujols' 700th home run now leaves him trailing only Barry Bonds (762), Hank Aaron (755) and Babe Ruth (714) for the most all-time, putting an emphatic exclamation point on one of the best careers in the history of baseball.
Tags