PSV impose 40-year ban on man who attacked Sevilla keeper Dmitrovic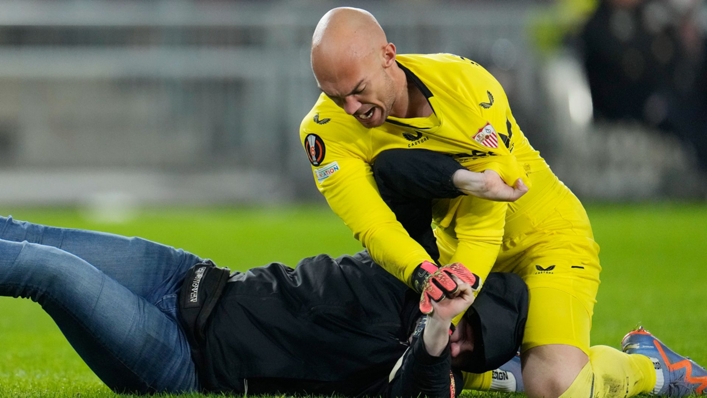 PSV have handed the man who attacked Sevilla goalkeeper Marko Dmitrovic during their Europa League meeting a 40-year stadium ban.
The Eredivisie club were eliminated from the competition despite a 2-0 second-leg victory in their knockout round play-off tie last month at Philips Stadion, having lost 3-0 in Spain.
Ugly scenes marred the final moments of clash in Eindhoven, however, when a 20-year-old supporter entered the pitch and attacked Dmitrovic, who subsequently pinned the man before security escorted him away.
The man in question was given an initial two-month prison stint on March 8, and sentenced to an additional one-month inside if he re-offends.
PSV have now confirmed he will face further long-term punishment for his actions, with a stadium ban stretching until 2063.
"PSV [have] imposed a 40-year-long ban on the individual who invaded the pitch during the Europa League match against Sevilla," the club said in a statement.
"The 40-year-long ban comes on top of a possible fine imposed by UEFA. The pitch invader is currently serving a three-month sentence with one month suspended imposed by the East Brabant District Court.
"He is also barred from the area around the stadium for two years."
PSV also revealed the individual had already been serving a ban from the Royal Dutch Football Association (KNVB).
Sevilla secured their place in the quarter-finals of the Europa League last week following a 2-1 aggregate victory over Fenerbahce.
They will face Manchester United in the last eight in April, after the international break.
Tags