Galtier says Champions League success should not define PSG project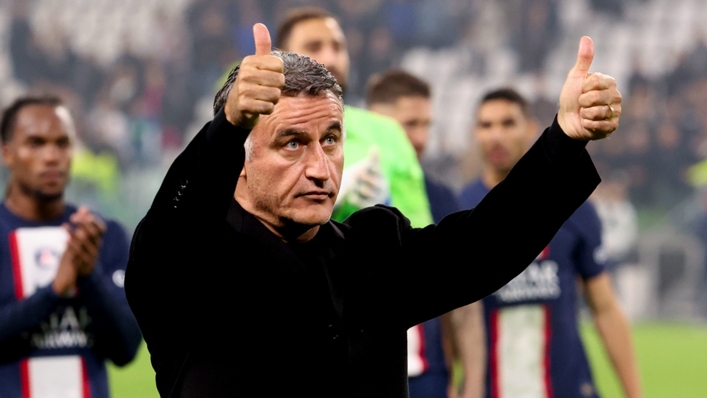 Christophe Galtier believes success in the Champions League should not define his ongoing project at Paris Saint-Germain.
PSG have been dominant force in France over the past decade, winning eight Ligue 1 titles while also capturing the Coupe de France and Coupe de la Ligue on six occasions.
But the coveted Champions League crown has continued to elude Parisian giants, who came closest to landing it when they lost 1-0 to Bayern Munich in the 2020 final.
PSG will face Bayern once more in the last 16 of this season's competition, but head coach Galtier thinks his future at the club should not depend on their performances in Europe.
"There are 10 teams that every season aim to win the Champions League, and only one achieves it," he told Marca. "And then, the other nine who have not succeeded, do we have to fire their coaches? No.
"It's very difficult to win the Champions League. I'm not looking to protect myself, but the big European clubs have this goal and don't change everything because they don't win it.
"There are several examples. Atletico [Madrid] reached the final twice and when they did not win, the club continued to believe in [Diego] Simeone and his sporting project. The same goes for Pep Guardiola. [Manchester City] haven't won yet, but the club still believes in their ideas.
"I think it would be a mistake to change PSG's sports project if the Champions League is not won. I think it's a process, obviously not a 10-year one, but what shouldn't be is that if we don't win this year, we change everything."
Despite being unbeaten in six matches, PSG only advanced to the knockout stages as group runners-up for a second successive season, as Benfica snatched top spot in Group H by virtue of scoring more away goals.
Galtier's side conceded seven goals - with only RB Leipzig (nine) and Eintracht Frankfurt (eight) shipping more against the teams that progressed to the last 16 - and the head coach insists they must tighten up to embark on a long run in the competition.
"We have conceded too many in the Champions League," he added. "Obviously, there is a difference in level between the Champions League and our championship. But if we want to go far in the Champions League, we must improve our defensive level.
"Nothing is easy in the Champions League. In addition, no one in the analysis has taken into account the difficulty of the calendar this season. It is the first time in the history of football with such a compact and difficult calendar.
"Practically every week, there were Champions League games. I think that's why some teams that normally made it past the group stage haven't. We have played in three and a half months what we normally played in four or five months."
Tags