PSG chief Al-Khelaifi keen to extend Messi, Mbappe and Ramos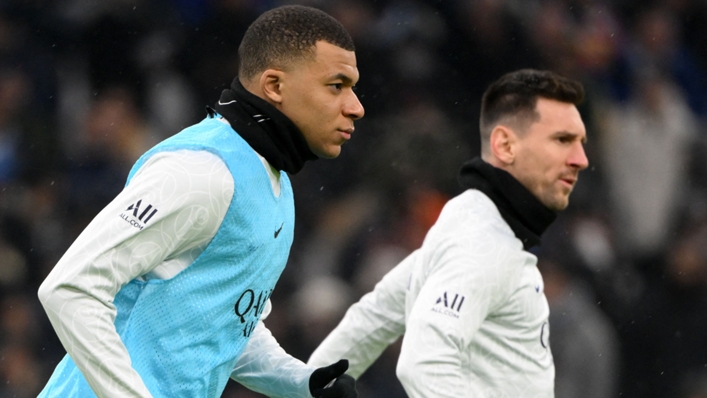 Paris Saint-Germain president Nasser Al-Khelaifi is keen to keep Lionel Messi, Kylian Mbappe and Sergio Ramos at the club.
Another disappointing exit in the Champions League round of 16 has cast doubt over the future of some of PSG's key players, as well as head coach Christophe Galtier.
Both Messi and Ramos are out of contract at the end of this season, with reports the former could make a shock return to Barcelona, while Mbappe has also been linked with a move away despite signing a bumper new contract at the start of this season to keep him at the club until 2025.
Despite the uncertainty at the club, Al-Khelaifi remains hopeful PSG will be able to keep their best players, though he also wants to see more young talent introduced into the team.
When asked about the futures of Messi, Mbappe and Ramos on Friday, Al-Khelaifi told Marca: "People want to know what is happening.
"We are committed to seeing them continue. We will examine what we are doing and how to ensure that we can continue and that we get it right.
"We're not going to make any mistakes. I think it's very important that we focus now on our season.
"We focus on youth and young talents. We will continue to invest in the club and in the transformation of the future within the academy."
PSG's second consecutive last-16 exit means their long wait to lift their maiden Champions League trophy goes on, with Mauricio Pochettino losing his job at the end of last season despite helping the club cruise to the Ligue 1 title.
With PSG so desperate to win Europe's top prize for the first time, Al-Khelaifi remains positive over the club's future, explaining: "We have three superstars, but also other fantastic talents. We are going to analyse the team, we have to work.
"The last four years have been fantastic, we have reached the final and it is important to improve every year as a club and to improve the team.
"It is not easy to win. There are many big clubs that fight to achieve it. You have to be in the Champions League, be lucky, make an effort, hope that there are no injuries.
"There is no margin for error, in the Champions League you pay dearly. There are pressures because there are many teams that qualify and many very big clubs.
"We are going to try every year and fight to achieve it."
Tags