Potter backs Aubameyang to fight for Chelsea future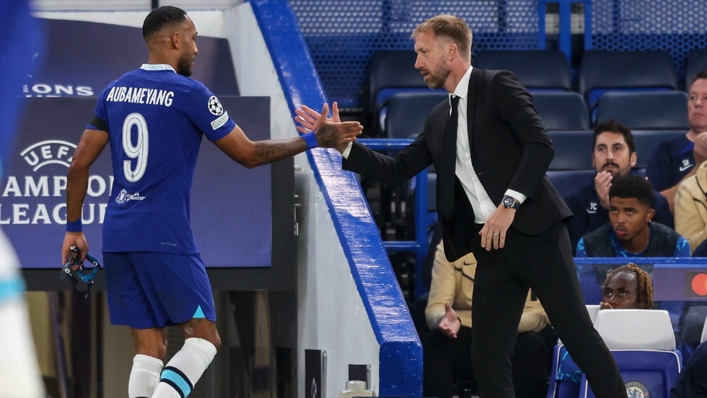 Pierre-Emerick Aubameyang still has a future at Chelsea despite Graham Potter's "tough" decision on the striker's omission from the Blues' Champions League squad.
Chelsea head coach Potter left Aubameyang out of his 25-man squad for Europe, bringing in new recruits Joao Felix, Enzo Fernandez and Mykhailo Mudryk.
The Gabon international last started for Chelsea in November and has scored just three goals in 18 appearances – in which only 10 of those have been starts – amid a frustrating spell at Stamford Bridge.
But Aubameyang netted both home and away against Milan in the Champions League, starting all six games, with Potter acknowledging the difficulties of naming his squad with Chelsea's depth of riches.
"I don't think it's going to be difficult because Pierre is a professional and of course, I understand he will be disappointed," Potter said.
"It was a tough decision, a tough call. We had three in and two had to go out. He was the one that missed out, he's done nothing wrong at all.
"We wanted to give David [Fofana] some game time today to see where he's at and give him that opportunity. I think you saw that one flash that he's got.
"Pierre is just unfortunate and he will be fighting for his place for the rest of the season. Whichever decision we made there was always going to be a conversation about it but it was my decision.
"It was a tough decision absolutely, sometimes you have to make these calls but it's absolutely nothing bad against him. He's done nothing wrong at all."
An image posted on Instagram by Aubameyang's brother Willy sparked controversy after it appeared the former Arsenal forward was in Italy as Chelsea were held to a goalless draw by Fulham on Friday.
Potter dispelled the speculation over an unexpected absence, though, explaining Aubameyang was free to do what he pleases with a rare chance to take time away.
He added: "He trained today, he trained very well and he's got the weekend off so we can report on Monday. It's a free world."
Tags