Pochettino prepared to be patient for next job amid past links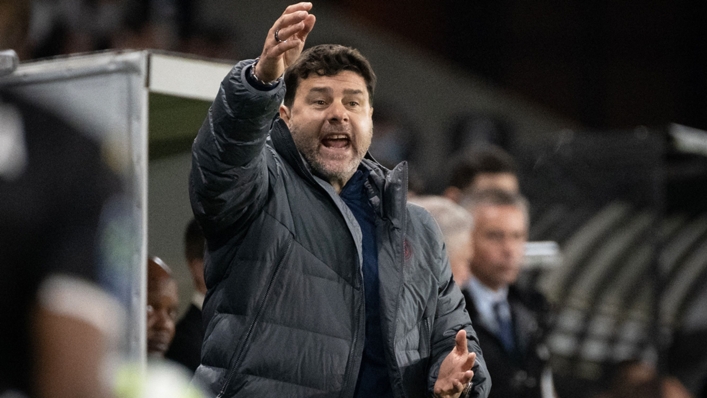 Mauricio Pochettino acknowledged patience is key for his next managerial opportunity amid previous links to Manchester United and Real Madrid.
Former Paris Saint-Germain coach Pochettino was dismissed from the French capital in July 2022 after failing to deliver Champions League glory with a squad assembled purely for that goal.
Lionel Messi moved to Paris ahead of the 2021-22 season, along with Sergio Ramos, Gianluigi Donnarumma and Achraf Hakimi, though an abundance of world-class talent crashed out in the last 16 to Madrid.
Pochettino has subsequently been linked to a move to Los Blancos, once Carlo Ancelotti departs, or to United, who preferred Erik ten Hag when the pair were both linked to the Old Trafford role.
When asked by Marca about joining either of those sides in future, the Argentine said: "Soccer is 'timing'. These are the moments for it to coincide and for that marriage to happen.
"Sometimes it's just a question of time. I don't believe in trains passing only once. I think that sometimes you have to have the necessary patience and you have to know how to wait."
The former Southampton and Tottenham boss has previously expressed a subtle interest in managing England should Gareth Southgate leave after the World Cup in Qatar, which starts on Sunday.
Pochettino has a wealth of experience, despite only winning two major trophies – Ligue 1 and the Coupe de France with PSG – though he believes "timing" is everything in football.
"The 'timing' is handled by football, it is true that my name has always been associated with big clubs," he added.
"I have a lot of respect for professionals and it's hard for me to sell myself, that's work for you."
Time away from managing has afforded room for reflection from Pochettino, though he insists he would never re-think his previous decision-making with the likes of PSG and Tottenham.
"It is a good stage to capitalise on all those experiences and have a vision from another place," he continued.
"We always try to have external visions, from the analysis, above all so as not to take things personally and that this external vision has a context.
"This analysis means that now time does not make us rethink decision-making, it helps us to be better."
Tags