Phillips, Guardiola and City a match made in heaven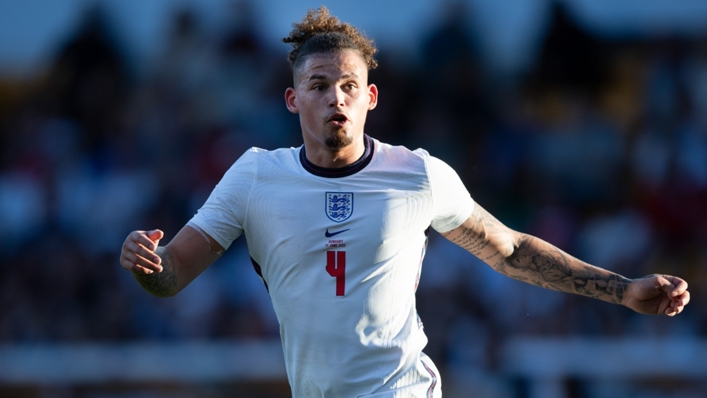 When it comes to recruitment and squad construction, there are not many clubs – if any – run more effectively than Manchester City.
Their Premier League title success last season season was just another reminder of how good they are on the pitch, yet the people in charge are not the types to simply sit around admiring their achievements.
Even before winning a fourth Premier League crown in five years – a feat only ever previously managed by Alex Ferguson's Manchester United – it was clear where City were going to strengthen.
A deal for arguably the most sought-after striker in world football, Erling Haaland, was wrapped up two weeks before the season ended, and then with Fernandinho expected to depart, another central midfielder was to be the second priority.
Kalvin Phillips proved to be the chosen one, with City confirming on Monday that the England international has completed his reported £45million move from Leeds United, having undergone a medical on Friday.
It's an impressive statement by City, who have already bolstered their two primary problem areas – if you can call them that – by the first week of July.
And with respect to Phillips' signing, there's a lot to suggest it's a shrewd acquisition.
Of course, the most obvious – and arguably crucial – link here is Marcelo Bielsa. It was under the Argentinian coach that Phillips has played the best football of his career and cemented himself as an England regular.
Bielsa is also considered one of Pep Guardiola's greatest inspirations, with an apparent 11-hour meeting between the pair back in 2006 said to have played a major role in the City boss' decision to go into management.
The similarities between the two coaches' styles of play are significant, and this should facilitate a smooth transition for Phillips.
Under Bielsa he'll have become accustomed to not only intense training sessions, but also a playing philosophy that revolves around possession-based football and relentless counter pressing.
In terms of the latter, City are perhaps a little more considered in their efforts compared to Bielsa's Leeds, but either way Phillips has been exposed to the same fundamentals, and that can only be a tick in the pros column.
After all, a second-season bounce has become commonplace for signings under Guardiola. Numerous players have needed a full campaign to truly get to grips with the demands required by the Catalan coach before going on to show significant improvement and growth thereafter – Phillips might be better-equipped than most to hit the ground running.
But that brings up a separate issue; what will Phillips be to City?
Rodri the immovable object
Having come through Leeds' academy, established himself as a key player and then gone on to be a fulcrum in Bielsa's team, Phillips was the first name on the teamsheet – when fit – for several years at Elland Road.
Regardless of his suitability for City, it seems unlikely he'll enjoy a similar status in Guardiola's team. Phillips is at his most effective as lone defensive midfielder, but so too is Rodri, and it's difficult to imagine the Spain international being suddenly taken out of the team given how effective he's proven to be.
Rodri's 2,937 successful passes in the opposition's half since the start of the 2020-21 season is over 400 more than any other Premier League player, and his 577 ball recoveries over the same period is the joint-most alongside Pierre-Emile Hojbjerg, though the Dane has played almost 1,000 minutes more.
Of course, who's to say Phillips couldn't play the role even more effectively? But the key thing to consider is that Rodri has an important function in both keeping City on the ball and then winning it back when they don't, and he demonstrably does both well.
Nevertheless, Guardiola's proven he's a coach keen to rotate. He gave at least 900 minutes of Premier League football to 18 players last season, with only four teams bettering that, so Phillips can still expect plenty of game time.
And, to be fair, Phillips might not have even been up to the task of being a regular starter for City given how much time he spent sidelined last season.
Clearly, then, Guardiola's rotation policy would suggest Phillips will have opportunities to deputise for Rodri and take up the back-up role vacated by Fernandinho, yet there's no doubt he possesses the skillset to also play alongside the former Atletico Madrid midfielder as well.
First and foremost, he's a more progressive player than Rodri. Over the past two seasons, 28 per cent of Phillips' passes have been forward, the exact same figure as Fernandinho and a fair bit more than Rodri's 20 per cent.
Similarly, in the same period Phillips has played 3.5 passes into the box every 90 minutes, whereas Rodri has averaged two, and his 1.0 dribble attempts each game is also slightly more than his new team-mate (0.9).
But in a way it shouldn't necessarily matter which midfield role Phillips plays in, given he has a range of abilities that should suit him either as a number six or a number eight, especially in a Guardiola team.
On top of that, Phillips doesn't turn 27 until December, so he is very much entering his prime years, and if anyone can squeeze every ounce of potential out of a player, it's Guardiola.
Then when you consider Phillips' history with Bielsa and type of team he played in at Leeds, everything points to this being a match made in heaven.
Tags