Phillies sweating on Schwarber calf strain ahead of Mets series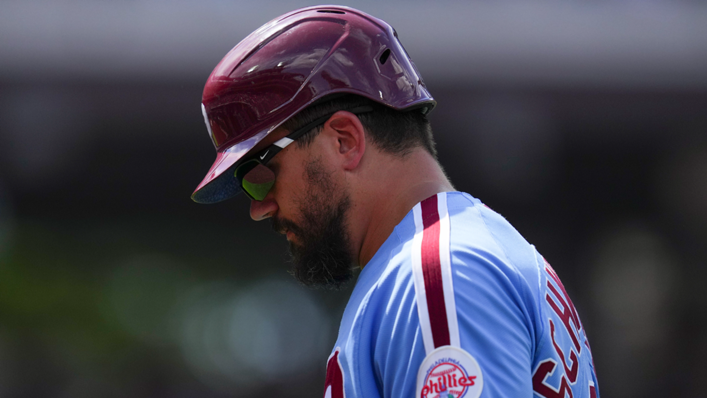 The Philadelphia Phillies will be sweating on the availability of All-Star slugger Kyle Schwarber after he was forced out of Thursday's 3-0 loss to the Miami Marlins due to a mild right calf strain.
The 2021 and 2022 All-Star, who leads the National League (NL) with 34 home runs this season, was pulled out after earning a walk in the fifth inning having experienced tightness throughout the game.
The injury concern comes ahead of the Phillies' series against the NL East-leading New York Mets which begins on Friday.
"I probably won't play [on Friday]," Schwarber told reporters. "I will do as much work as possible and try to get back as quickly as possible.
"I want to be quick as I can but also don't want to do anything that's outrageous to hurt the team and be down an extended amount of time, too.
"It's something I've been managing. It wasn't anything serious. Today it just got tighter and tighter and tighter, and I just felt like if there was a ball that fell on the field, I wouldn't be able to serve."
The Phillies currently occupy the second NL Wild Card spot, having won 12 of their past 14 games.
Philadelphia holds a 62-49 record, behind the Atlanta Braves (66-46) in the NL Wild Card race, with the San Diego Padres (63-51) and the Milwaukee Brewers (60-50) next behind them.