McIlroy claims PGA Tour 'birdied the first' by winning FedEx Cup battle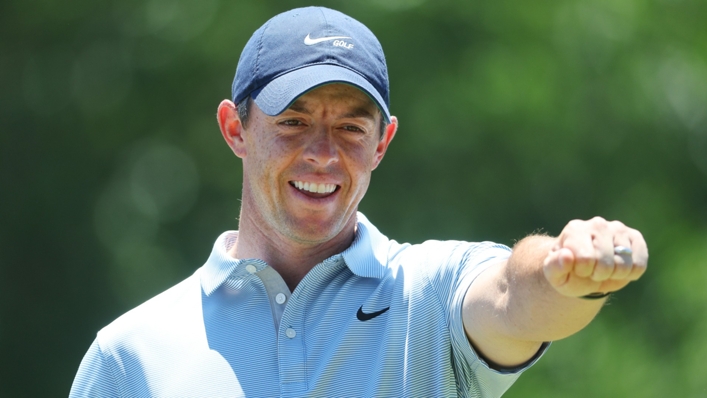 Rory McIlroy considered Tuesday "a good day" for members of the PGA Tour, as he felt the attempts of LIV Golf rebels to enter the FedEx Cup had made the dispute around the breakaway series "personal".
A judge ruled ahead of the FedEx St. Jude Championship that LIV Golf players were not eligible to compete in the play-offs.
Talor Gooch, Matt Jones and Hudson Swafford had filed a restraining order to allow them to play this week's tournament, while 11 LIV Golf stars put together an antitrust lawsuit against the PGA Tour.
McIlroy, who said he was following the proceedings live on Tuesday, was delighted the trio had not been granted access after abandoning the Tour for the lucrative new Saudi-backed league.
"From my vantage point, common sense prevailed, and I thought it was the right decision," McIlroy said.
"And now that that has happened, I think it just lets us focus on the important stuff, which is the golf, and we can all move forward and not have that sideshow going on for the next few weeks, which is nice."
The four-time major winner, who finished third as Cameron Smith – reported to be the next LIV Golf signing – won The Open last month, was asked if the struggle between players on either tour had become "personal".
"Yeah – and it was when that lawsuit was filed last week or whenever it was," McIlroy replied.
"The thing that I would say [is that] I certainly have a little more respect for the guys that haven't put their names to the suit. Yeah, it's become a little more personal because of that."
And while delighted with the outcome on Tuesday, McIlroy knows there will be plenty more battles ahead.
Explaining his outlook, the Northern Irishman said: "Guys are going to make their own decisions that they feel is best for them, and that's totally fine.
"I don't begrudge anyone for going over to play LIV or taking guaranteed money. If that's your prerogative and what you want to do, totally fine.
"But I think where the resentment comes from, from the membership of this tour, is the fact that they want to try to get their way back in here with no consequences.
"Anyone that's read that PGA Tour handbook or abided by the rules and regulations, that would feel very unfair to them.
"That's sort of how it played out, and I think everyone that has abided by the rules was... There's such a long way to go – it's like you've birdied the first hole, but you've still got 17 holes to go – but it was a good day for the Tour and for the majority of the membership yesterday."
McIlroy has been prominent in his opposition to LIV Golf, and he revealed on Wednesday he had received an offer from the Premier Golf League, but not from the latest threat to the PGA Tour.
The 33-year-old was therefore asked if he enjoyed his role as an unofficial spokesperson for the PGA Tour.
"Not really," McIlroy replied, but he does feel his game has somehow benefited from his being at the centre of a storm when off the course.
"I don't feel like it's my job to be up here and stick up for the Tour or be a spokesperson," he said.
"It's just sort of the role that I've found myself in, especially coming on the PGA Tour [policy] board this year. It was a great time to agree to do that...
"I've said this to a few people: I feel when I then get myself inside the ropes, it's like no one can get to me, and it's really nice.
"So, it's actually made the golf part of it way more enjoyable. And I sort of appreciate it a little bit more, because of all the other stuff that's going on.
"If anything, it's probably helped my golf, just because I can get out there and I can not think about it and compartmentalise everything and maybe enjoy competing a little bit more – or at least appreciate it a little bit more with everything else that's going on."