Alonso delivers walk-off home run for New York Mets
Liam Phillips
Stats Perform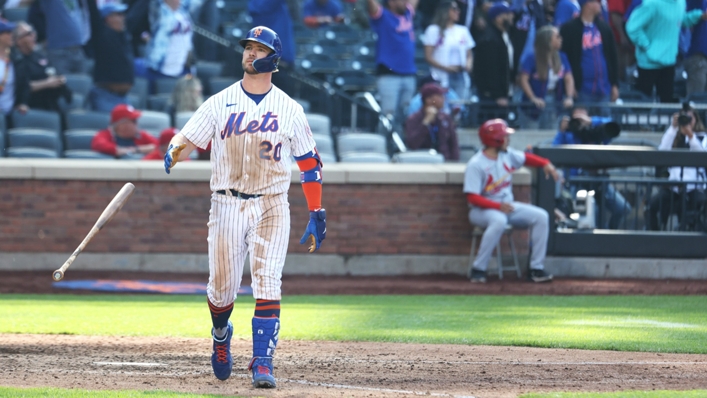 The New York Mets treated their home crowd to a thrilling extra-innings walk-off victory, beating the St. Louis Cardinals 7-6 on Thursday.
With their top-three pitchers – Jacob deGrom, Max Scherzer and Tylor Megill – all out injured, the Mets gave starter Chris Bassitt some early run-support as a Pete Alonso base hit and a Jeff McNeil fielder's choice made it 2-0 in the opening frame.
St. Louis fought back with a towering 414-foot solo home run to Juan Yepez in the second inning, and then tied it up with another solo shot from Paul Goldschmidt an inning later, before Goldschmidt made it 3-2 with a RBI double in the fifth frame.
McNiel drove in another two Mets runs in the bottom of the fifth, opening up a 5-3 lead, but Goldschmidt would again come through for the Cardinals, grounding out to drive in one in the seventh, before tying the game at 5-5 with an infield single in the ninth to force extra innings.
After future Hall-of-Famer Albert Pujols gave the Cardinals a lead, Pete Alonso closed the show for the Mets in the bottom of the 10th inning, crushing a 447-foot bomb into the left-field bleachers to win the game.
Bassitt pitched six-and-a-third innings for four earned runs and three strikeouts, helping the Mets move to the third-best record in the league at 26-14.
Santander delivers against Yankees
The Baltimore Orioles had a memorable 9-6 win against the New York Yankees thanks to a three-run Anthony Santander walk-off homer in the bottom of the ninth inning.
After a back-and-forth battle, the Yankees tied the game 6-6 at the top of the ninth inning with a D.J. LeMahieu single, but the New York bullpen could not send it to extra innings.
An error and a base hit got two Orioles on base, and with Santander just needing a single to win the game, he instead launched a shot over the left-field fence for a dramatic walk-off win.
Trevor writes his own story
Trevor Story played his best game as a Boston Red Sox player in his side's 12-6 win against the Seattle Mariners, hitting three home runs.
Story, 29, was the Red Sox's biggest off-season acquisition, but has struggled to start the season, with only two home runs entering Thursday's game. He turned that around in a big way with a 402-foot two-run home run in the second inning, and a 403-foot two-run bomb an inning later.
After a single in the sixth inning, Story capped off his day in the eighth frame with a 358-foot three-run shot, giving him seven RBIs in the game.